The 2011 Oregon 5A State Football Champion Mt. View Cougars Football team celebrated its first state Title Wednesday night in grand style at The Riverhouse Convention Center in Bend.
Head Coach Steve Turner (4th yr.-below) with his 5 Senior leading men (from left to right) Matt Miller, Jacob Hollister, Dimitri Dillard, Cody Hollister, and Joel Skotte.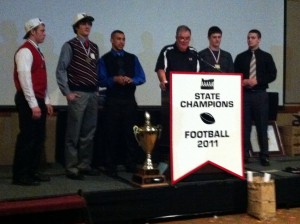 A memorable night of awards, accolades, honors, highlight video, memories, thanks, and great hospitality provided by Wayne Purcell's Riverhouse Convention Center staff.  And, Country Catering, and many other folks who were very instrumental in staging this event.
(click below to see Mt.View Football banquet scene at Riverhouse Convention Center-Bend)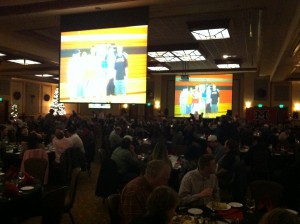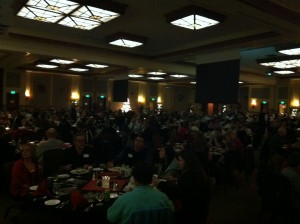 The BIG Trophy and Championship that many felt Mt.View would not win…well, guess what?  The BAD BOYS from the eastside got it done in the school's first shot at a Title in 32-years.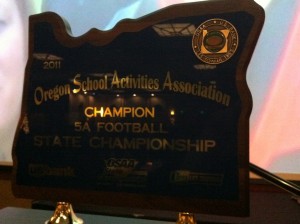 One of the best defensive coaches in the State, Neil Elshire, honoring his 'Big-3' on the Mt. View defense that shut down 3 different style offenses during the run through dominating the Quarterfinals, Semifinals, and Championship.
Below, left to right are Dylan Johnson, Haden Czmowski, J.D. Warren.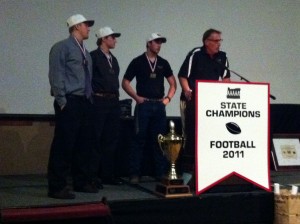 Sr. Lineman and Captain Matt Miller below accepts 'The Hammer' award as best Offensive Lineman….
Coach Brad Soto congratulates and delivers the 'Most Improved Player' award to Sr. Fullback Josh Smith who score the game-tieing TD in the Title game with a 43-yard run up the gut to tie the game 13-13 in the 3rd quarter.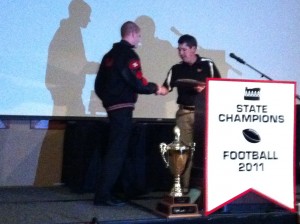 The future Cougs standing below….
Offensive Line (Hammer):        Matt Miller
Special Teams:          Cody Hollister
Best Back:              Dimitri Dillard
Best Lineman:   Dylan Johnson and Matt Miller
Most Inspirational:     Joel Skotte
Dave Roberts:   Colton Bachman
Most Improved:  Josh Smith
Best Offense:   Jacob Hollister
Best Defense:   Joel Skotte and Dimitri DIllard
MVP:                    Joel Skotte