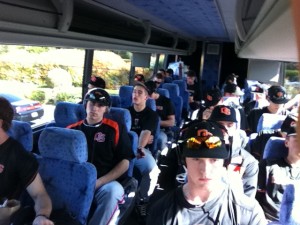 The Oregon State Beaver baseball team begins its 3rd straight road trip heading to Phoenix, Arizona Wednesday to play 4-games, in 4-days, and against 4-different opponents.
OSU (5-3) with only 4 Seniors on the 35-man Roster will meet St. Mary's, Winthrop, St. Louis University, and Northern Illinois in Surprise, Arizona at the spring training home of the 2-time AL Champion Texas Rangers.
The four game set begins Thursday and concludes Sunday with all 4-games scheduled for a 10am (PT) start on the Beaver Sports Network, and online at www.osubeavers.com.
The Beavers were crushed twice in the recent 4-game San Diego trip as they were blasted by San Diego State, 18-2, and the following day were thumped by the University of San Diego, 13-2.
But, the young Beavs showed some real character and bounced back with vengence on Sunday to take down Kansas State, 13-5.
Oregon State got a Grand Slam blast from Jr. First baseman, Danny Hayes, and a solo HR from So. Catcher Jake Rodriquez, and a 2-run Home Run by freshman sensation Michael Conforto.