Duke Degaetano hauled in a 21 yard touchdown pass from Jonah Koski with 9:31 left in the 4th quarter, cutting the score to 12-8, but Lebanon scored two touchdowns in the final 8 minutes to seal a 26-8 victory in the 'Play-in'  Round of the OSAA US BANK/LES SCHWAB TIRES 5A Football Playoffs.
Prior to the game, Bend Lava Bear Head Coach Matt Craven preached the importance of controlling the Warriors ground game, saying "they are going to try and run between the tackles, and we have to make sure that doesn't happen."
The Lava Bears could not make that happen as they watched Lebanon carry the ball 63 times for 271 yards as a team, keeping control of the ball most of the game in the victory.

Lebanon got on the board first with 24 seconds remaining in the 1st quarter with a 3 yard run from running back Tamen Privartsky, capping a 12 play, 87 yard drive to make it 6-0 at the end of the first quarter.
Bend's ensuing drive was cut short after Jonah Koski was intercepted by Lebanon's Derek Wuilliez at the Warriors 45 yard line. Lebanon capitalized with their 2nd consecutive 12 play drive, this one spanning 55 yards after a 25 yard touchdown pass to Riley Wessel, securing Lebanon a 12-0 halftime lead.
A back and forth third quarter featured no points, but countless turnovers. Lava Bear Defensive tackle Tre Sweeney intercepted a pass, but Koski was intercepted on the next play to give Lebanon the ball once again.
Bend's first drive of the 4th quarter would be their only successful drive of the game, as Bend had a 4th and 4 from Lebanon's 19 yard line, when Koski avoided the rush on the play-action, and hit DeGaetano with the screen pass coming out of the backfield, who sprinted to the endzone untouched.
DeGaetano followed it up, running in for the 2 point conversion to cap the scoring for Bend.
The last 9 minutes of the 4th quarter were all about Lebanon fullback Tim Ferrell, who had a 7, and 8 yard touchdown runs to put the game away for Lebanon, who improved to 5-5 and kept their season alive.
Jonah Koski finished 9 of 20 for 124 yards, and a touchdown with his two interceptions.
Duke DeGaetano capped his high school football career with 23 carries for 59 yards, and four catches for 40 yards and the TD.
Lebanon's Tamen Privratsky led all running backs with 116 yards on 27 carries, while teammate Tim Ferrell finished with 97 yards on 17 attempts to go with his 2 scores.
Bend's season came to an end as they finish the season 2-7. 
After the game, Safety Joel Johnson (#11) reflected on the season with Jacob Curry (#55) saying "we played for each other, for our family. We played our hearts out and it was a great season. I'm going to miss it. This team is going to be different next year, we lose a lot of guys."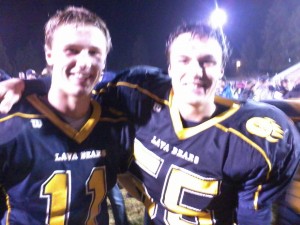 [buzzsprout episode='65117′ player='true']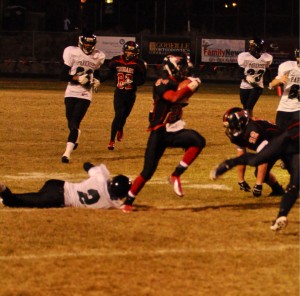 Meantime, across town on the eastside, the defending 5A Champion Mt. View Cougars rolled to an easy win over Parkrose, 56-20.
Above, Sr. WR
John Carroll breaks free through the Broncos defense.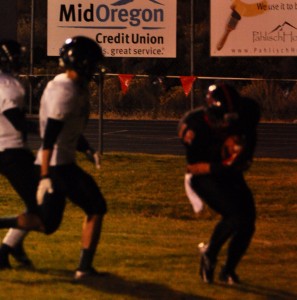 Hefner hauls a TD pass in from Webb for another six…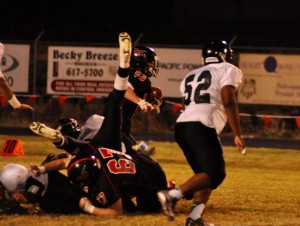 Mt. View's offensive line may be one of the best in the State, and here #67 Steve Livinston flatbacks a Parkrose defender.
OTHER CENTRAL OREGON SCORES:
Mt. View 56  Parkrose 20
Madras 33  Crook County 21
Siuslaw 39 Ridgeview 6                                                                                                                 
Waldport 48  Culver 0
Gilchrist 56  Chiloquin 6
North Lake @ Triad (Klamath Falls)-Sat.
CLASS 5A SCORES:
Crescent Valley 35 Eagle Pt. 12
Roosevelt 43  Pendleton 25
Ashland 47  Corvallis 7
Hermiston 50  Sandy 0
Churchill 41  Milwaukie 20
Putnam 20  Hood River 14
CLASS 6A SCORES:
Beaverton 49  South Eugene 14
Roseburg 55 North Salem 14
Westview 69  Hillsboro 14
Clackamas 49  North Medford 28
Glencoe 28  Barlow 17
David Douglas 44 Newberg 21
West Linn 61  McKay 27
Centennial 35  Forest Grove 14
Lakeridge 21  Lincoln 17
McNary 13  Grants Pass 6
CLASS 4A SCORES:
Cottage Grove41  Mazama 8
Ontario 27  Estacada 6
Philomath 56  Brookings 15
Douglas 27  Elmira 9
Banks 35  Central 15
Siuslaw 39  Ridgeview 6
Madras 33  Crook County 21
 (Photos Mike Roberts)