The Bend Elks rebounded from a rare loss on Saturday to take the rubber game of their 3 game series verse the Medford Rogues 4-3.
The Elks jumped out to an early 1-0 lead when IF Tyler Davis (Jr. NW Nazarene) doubled in OF Christian Cavaness (Jr. Linwood) in the 1st.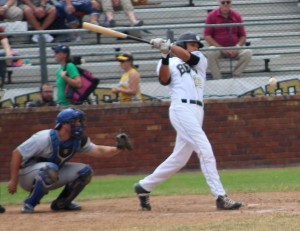 In the 5th inning, Medford loaded up the bases, and relief pitcher Sam Boone (Fr. Washington State) gave up a walk to IF J.J. Kitaoka (Fr. U of Hawaii) forcing home IF Tony Roque (Cal St. Chico) to tie it up 1-1.
The Rogues took the lead in the 7th when C Jimmy Wright (Soph. Morehead State) nailed a solo shot home run to put the Rogues up 2-1.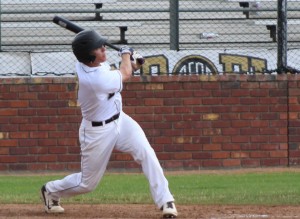 However the Elks answered in the bottom of the inning, tying it up 2-2 with a C Louis Wolf (Fr. Mt. Hood CC) RBI single driving home OF Daulton Hurd (Fr. Seattle U).

IF West Tunnell (Jr. Baylor) gave the Elks the lead 4-2, hitting an RBI single, scoring Cavaness and Wolf.
 

Roque scored his second run of the game in the top of the 9th, on a sacrifice fly by N. Ethridge, closing the gap to 1 run, 4-3, but RP Daniel Beis (Fr. Gonzaga) was able to strike out Kitaoka for the final out.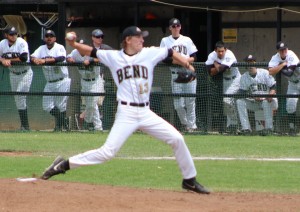 With the win, the Elks maintain the best record in the West Coast League at 27-6.  And, Bend owns a 10 1/2 game lead over Corvallis in the South Division.
The Elks will play host to Salem Monday & Tuesday July 13-14 in a pair of Non-League exhibitions, and resume WCL action Thursday, July 16th at Walla Walla to begin a 6-game road trip ending in Yakima.