-Chris Gallagher
The #7 ranked Bend High Lava Bears (5-2) hosted the #1 ranked Liberty Falcons (7-0) in a non-conference clash between state title contenders. Despite going blow for blow in the first half, the Lava Bears were unable to keep up with the surging Falcons, losing 45-21.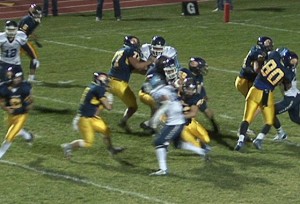 Bend High won the coin toss, elected to receive, and scored the first points of the game on a 2 yard rush by Cole Rixe (SR, 5-5, 170). Rixe would gain over 100 yards in the first half and eclipse the 1,000 yard mark on the season.
Charles Clark (SR, 5-11, 170), the eventual Taco Stop Player of the Game would return the ensuing kickoff to the Bend 42 yard line.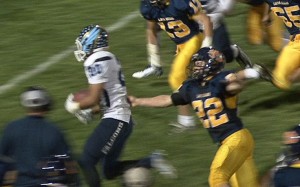 The Falcons then mounted a 6 play drive, all passing plays, finished off by a 25 yard reception by Jacob Mast (SR, 6-5, 215). A fake field goal gave Liberty a 1 point advantage.
Following a 3 and out by Bend, it appeared Liberty was in trouble, facing 3rd and 16 on their own 25.
Quarterback Blake Walker (SR, 6-3, 175) was undaunted, throwing a 75 yard touchdown pass, to Clark. It was Walker's 2nd of 5 touchdown passes.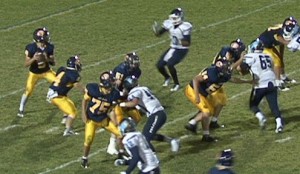 Bend wasn't done yet. The Lava Bears responded by driving 62 yards setting up a 1 yard touchdown run by Cameron Himes (SR, 5-10, 195). 4 plays later, Liberty gave Bend the ball again via punt. With 6:45 to go in the 2nd quarter, Hines caught a 20 yard Chase Lettenmaier (SR, 6-0, 190) touchdown pass. The PAT would give Bend a 21-16 lead.
Bend held Liberty to a 3 and out, but a muffed punt gave the Falcons new life at the Bend 36 yard line. Liberty capitalized, ultimately scoring on a 7 yard pass to Clark. They scored a 3rd 2 point conversion.
Bend drove all the way to the 1 yard line on the next drive, before Rixe coughed up a fumble. Liberty ran down the clock and went into halftime with a 24-21 lead.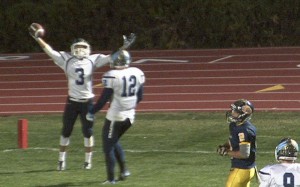 Bend showed flashes in the 2nd half including forcing a turnover on downs on the Falcons' first drive, but was unable to pull off another scoring drive. Rixe was held in check, unable to break off any runs for more than 10 yards.
Meanwhile, Liberty amassed 21 more points, content to kick extra points in the 2nd half. They host the undefeated Wilsonville Wildcats next week.
Despite the lopsided final score, the Lava Bears were competitive for most of the game, and come away with positive notes to build on going into their game against Summit (6-1) next Friday.