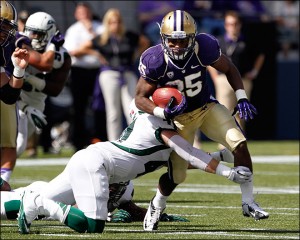 Read Seattle Times preview of the Dawgs visiting Autzen Stadium.
http://seattletimes.com/html/huskyfootball/2019309712_huskyfootball01.html
Next, Bob Condotta sat in on Steve Sarkisian's media conference today.
 Posted by Bob Condotta
— Sarkisian, reviewing the Stanford game, said he liked the fact that it went a little different than people might have thought with the Huskies winning with its running game and stopping the run. "Our physicality won out," he said, saying "that was cool to see."
— He talked about Bishop Sankey's production and that looked "much more decisive" in terms of making a decision and then making a cut and going. He said getting something of a running game was a key to the win. "We are better when we can run it, throw it, play-action pass, run it," he said. He noted how much Sankey was into the game with the emotion he showed on the last play when Stanford jumped offsides, saying he showed as much emotion at that moment as any player on the field, which he noted is a little out of character for Sankey,
— There was talk of the offensive line issues and Sarkisian said "we are having to change how we do things a little bit" due to the injuries and youth up front. "we need to get better no question about it, but that is about as good a front and well-coached a front as we are going to see all year," he said. He noted that "when we went to much more of a quick-game oriented offense, we were able to generate some offense that way." He said he doesn't want to "live that way" but that for now it's an option that gives the Huskies some offense.
— He noted the red zone issues in the Stanford game and said that "has to improve" is UW is going to beat teams like Oregon and USC.
— There was a lot of talk of the Sankey TD run to end the third quarter and he said he thought Stanford might have had a little substitution confusion once it realized the Huskies were going to run the play instead of waiting for the quarter to end. He also said there was a "great block" by DiAndre Campbell that helped spring the run.
— There was also a lot of discussion of the fourth down picked up by Dezden Petty in the fourth quarter and he said he thought that was a key turning point in terms of momentum, saying "I thought at that point we started to impose our will a little bit."
— He said Kasen Williams played even better than his stats in that he also blocked well and helped out in other areas. He said what Williams has done so far this year is "exactly what we were hoping for" out of a No. 1 receiver.
— Asked what were the differences in the defense against Stanford, Sarkisian mentioned "using hands better, pad level better and we've been tackling better." He also mentioned the rotating personnel groupings to match up to Stanford's offense, such as having Travis Feeney at safety and taking off a cornerback to have an extra linebacker on the field. "It's some fundamentals and techniques that have been working on but also some scheme things that brought it all together," he saide.
— In talking about the value of pad level, he said one of Tosh Lupoi's mantras to his players is having "your eyes below your opponent's eyes." He said he thought the Huskies were too high in pad level early in the season but have improved. Still, he said it will remain a big emphasis going forward. "That one area is going to be key for us as we navigate our way through the season and we still have plenty of room for improvement," he said, adding "pad level is football."
— Asked if Desmond Trufant should have knocked down that last pass, he said Trufant played the play perfectly and that players get in position to make the play and "sometimes it's hard not to react" and want to catch the ball and that it's an innate reaction. But he said players will be reminded again of knocking the ball down in such a situation. He said the last thing they do during every Friday walk-through is practice Hail Mary situations and batting the ball down but that it obviously remains something that needs to be coached.
— Asked if UW could have executed its defensive game plan without a bye week he said "I think so" and that it was mostly implemented during the regular week of practice.
— He reiterated a theme of the past few weeks, and also of earlier today, that he feels this team responds best "when we relate to us" and not worrying so much about who the opponent is each week. "We went to work today and I don't know if any of them thought about who we are playing. We focused on ourselves and it's pretty fun to be around that they like to compete with each other and challenge each other."
— There was talk of UW's new punting alignment, with three players in front of the punter, which is called the "shield." He said among other things they like about it is that it allows for getting better athletes on the field and also doesn't put as much protection responsibility on the snapper, which he said is big for UW this year with a first-year snapper.
— He talked about the change in practice schedule for this year and noted that it now goes into full effect with classes beginning. The schedule now is for the team to practice Sunday evening and have Monday off and then practice Tuesday, Wednesday and Thursday mornings and then have a walk-through on Friday afternoons. The morning practices began in the spring and he said they are finding positive results out of working out then, which assures getting the players "mentally fresh" in the morning rather than after a long day of being on campus.
— He noted Keith Price got his first start at Autzen Stadium two years ago so he has experience in that environment. He also said he is not worried about his team playing hard. "That won't be the question," he said. "It's going to be our ability to execute and be disciplined in our assignments even when we are a bit more fatigued." He mentioned again to expect more substituting early on in this game as becomes the norm against Oregon.
— Finally, he said conditioning will be a "huge point of emphasis this week" due to the nature of the way Oregon plays. He said it's not just physical conditioning but mental conditioning in understanding your ability to execute when fatigue sets in."