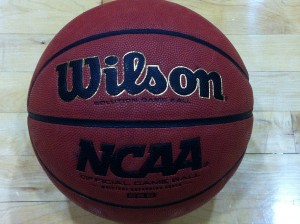 ahhh….The MADNESS is here!!
Good Luck to Bend (19-5) & Madras (23-2) Girls and to Mt. View (20-5) & Sisters (23-3) Boys at the OSAA U.S.Bank/Les Schwab Tires State Basketball Tournaments !!
Both Tourney's tipoff Wednesday with OSU-Gill Coliseum hosting the 4A, and Oregon-Matt Knight Arena entertaining the 5A.
Cascade is defending 4A GirlsChampion, but this might be Madras' year.
Sisters will have to play a stellar game to beat North Valley who has battled defending 4A Boys Champion Phoenix in several Skyline Conference games. My guess is either Phoenix repeats, or North Valley takes the Title.
You can hear Bend Girls v. Hermiston Live Wed. at 3:30p & Mt.View Boys v. Milwaukie Live Thu. at 1:30p in central Oregon on The Bend Radio Group-
ESPN Radio 940-AM….
Plus, Pac-12 Tourney with Oregon State v. WSU, Wed. at Noon.
Corvallis battled Benson in OT last year to win the 5A Boys Crown, but there are 5 of the 8 teams in Tourney that could win it.  Wilsonville is the team I think is ripe for Title.
Bend Girls will try to win their 14th straight game, but Springfield & Willamette are the powers to beat to capture the 5A banner.
And, as for the Beavers…well, the women with Pac-12 Coach of the Year Scott Rueck are positioned well in the P-12 Tourney bracket to have a shot at reaching the Semis.
Meantime, OSU men will try to beat Wazzu for a shot at Pac-12 Champion Washington in the Quarterfinals.  Don't bet the farm on it, though…
Thanks to Premier West Bank, American Energy-Chevron, Port of Subs, Anytime Fitness of Bend, Les Schwab Tires of Bend-Redmond, and Stillwater Fly Shop!
It's Tourney Time!! Would you like to dance….?