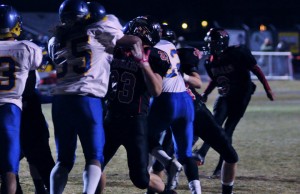 Ok, I've waited far too long to vent, and express my feelings about what I witnessed with many others last night as #3 Mt. View (Bend) hosted #21 Jefferson in the 1st Round of the OSAA Football Playoffs.
I've covered sports in radio & TV mainly in southern Oregon for 25+ years, and have been covering central Oregon sports now for 1-year to the date.
I'm a self-employed independent contractor of sports radio, TV, and play by play announcing, and I cover both Summit and Mt. View High Schools as part of the radio station's coverage I contract with for services in Bend.
Hopefully, I'm not a homer, and treat all the schools I cover fairly, and as evenly as I can. I'm not swayed either way with Mt. View or Summit as most that know me will tell you.
I make the following assertions and opinions on my own accord, and my opinions are not those of the radio station I contract with, sponsors, or school officials from Bend.
However, in ALL my years of sportscasting in this state, the actions, behavior, and conduct of Jefferson's players, and coaches was the WORST, and most disgusting I've seen EVER !!
The game was led by Mt. View, 20-0 just 5:17 into the game, and Mt. View having run only 1 offensive play. Mt. View intercepted Jeff just 3 plays into the game for a TD. The next Jeff series saw their punt deflected and caught in the end zone by a MV player for a TD. First MV offensive play goes for a TD pass.
It was moments later that Jefferson players took it upon themselves to start trash-talking, taunting, and teasing MV players. At the same time, the Jefferson sidelines was flagged twice consecutively for a 'sideline warning.' The second resulting in an Unsportsmanlike penalty of 15-yards.
Jefferson players then resulted to teeing off on a MV lineman before the ball was close to being snapped. And, that followed with taunts and threats by Jeff players that they were calling out MV players as to who they were going to hurt next.
I lost count, but last knew of 7 unsportsmanlike flags ALL in the first half, and not one ejection, yet.
How many taunts, threats, and other acts of violence need to take place before a referee ejects a player, or coach??
The officials (assigned by Central Oregon Assoc.) in my view, waited too long to take action, and are very lucky this game did not turn in to an all-out brawl.
Finally, late in the first half, a Jeff player was ejected. There should have been 3 other ejections from what I saw.
Later, a Jeff player came off the edge on a MV PAT kick attempt, and absolutely speared MV's place kicker. The Jeff player made NO attempt to even dive, or jump to block the kick, rather took direct aim at the kicker's head with head to head initiated contact.
The MV kicker never returned to the game.
And, then some Jeff players on the ensuing kickoff as MV teed it up at the Jeff 35 applauded the penalty enforcement, and teased the MV crowd by extending their arms out and and motioning as if to say…"bring it on, you want more of this."
Further, the Jeff coaches were irate at the referees for no reason, as if they were getting screwed, or something.
Are you kidding me?!!!
Oh, I already know the inter-city schools from Portland, namely Jeff, Benson and Roosevelt always feel they get hosed when they play outside of Portland and are getting schooled. I've seen it WAY too many times before, and while having been a basketball referee for many years, too.
And, these same schools have cried 'discrimination' or 'racial prejudice' and 'social insensitivitieness. '
I call bull on that!!
And, what happened last night had and has NOTHING to do with race, yet had everything to do with allowing and permitting the Jefferson players to continue to be unsportsmanlike, and to taunt Mt. View players and fans, and take cheap shots-hits with malice and intent to injure.
hey Coach Anthony Stoudamire (yes, Uncle of Damon Stoudamire), how about pulling the player out of the game that was applauding each penalty flag and turning toward the MV bench and grandstands displaying this??
I credit Mt. View coaches, namely Head Coach Steve Turner, for making sure the Cougars did not retaliate, even though I'm most certain they wanted to, in the worse way. But, MV did its talking by its play, and playing the game the right way, and dismantling the Demos.
It could have been far worse of a rout, easily.
It seems to me, that history has shown us (2006 5A Basketball Tourney) that other schools who have wronged some inter-city schools with their improper treatment, chants, signs, etc..at contests have had to issue an apology. And, school administrators had to take classes mandating how to control their respective student-fan population at OSAA events, and how schools should conduct their behavior.
So, I wonder IF Jefferson will issue any apology regarding the football teams actions, and behavior last night?
And, will Jeff Coaches be required to attend 'behavior classes?'
Jefferson should be sanctioned in some manner, and forced to issue a public apology.
Or, does the shoe not fit the same?
To my friends in Wilsonville at the OSAA offices….take ACTION!!  This was a travesty and a very very poor display of High School athletics in Oregon on the part of Jefferson players and coaches.