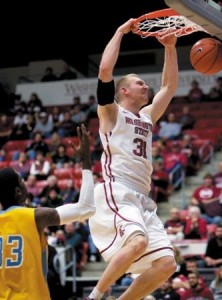 2007 cultivated quite a crop of basketball talent in Oregon Prep History during March Madness and the OSAA Tournaments.
Just last month we saw two of Oregon's former prep athletes chosen in the first round of the NBA draft as both Terrence Ross, and Terrence Jones of Portland who both are headed to the NBA.
Although most of the attention back in the 2007 season centered around Kevin Love of Lake Oswego, and Kyle Singler of South Medford, there are a handful of other ballers who have now proved to be nearly as good as the current Minnesota Timberwolve Love, and Singler, who soon will be a Detroit Piston.
Among Oregon's other prep stars that now have a chance at pro ball outside of the NBA, are Abe Lodwick (6-7/208) a 2007 Mt.View HS, and Washington State graduate.
Lodwick led the Cougars to a NIT Final-4 berth in New York City, and to a CBI Tourney semifinal this past season averaging 7.0 avg. points per game, and 4.5 avg. rebounds per battle.
Last week, Lodwick signed a professional contract to play for Phoenix-Hamburg of the German League.
The other guys who have earned a name for themselves now that served, at the time as the warm-up act, if you will, to Singler and Love, are Oregon City's Brad Tinsley (Vanderbilt), Garret Sim of Sunset (Oregon), and Brian Conklin of North Eugene (St. Louis Univ.).
All 3 mentioned above may soon have an opportunity to become professionals, too.
(Click below to hear interview with Abe Lodwick on ESPN Radio-940)
ABE LODWICK VISITS WITH ESPN RADIO 940-BEND