Well, my friend, advisor, and business partner Mike (Paradux Media) strongly suggested I needed to get a boot up my ass and post something about what the Byrdman is up to with Sports.
So, even though I'm on personal vacation from my daily talk show in Bend on ESPN Radio 940-AM, I'm stimulated by the upcoming Final-4, and today's NIT Final.
And, with that, I can't help to cap the madness of March with reflections of our own version of  'The Dance'  in Oregon with the best High School hoops served up with the OSAA U.S.Bank/Les Schwab Tires over the years.
 At least in the eys and memories of basketball fans from Jackson, Josephine, and Klamath Counties.
Over the course of history, specifically, of High School basketball in southern Oregon pertaining to basketball, there have been many close calls, and few Championships, but vary sparingly quite frankly.
Recently, Phoenix a suburb of south Medford claimed the 4A Boys Title in 2011, and finished runnerup in 2012.  Coach Glen Johannes has etched his name among the best Coaches in the Rogue Valley in restoring the Pirate program from the ashes.
Yes, there were Titles with Medford in 1960, Klamath Falls 1961, Grants Pass 1962,  St.Mary's (2A) of Medford (Dennis Murphy head coach) 1979;  North Valley's Title in 1985, and Cascade Christian with head Coach Brian Morse who won Titles in 2007 & 2009 (2A & 3A).
Plus, there were good runs by some well-coached teams by Jerry Hauck of Ashland, Terry Gregg of North Medford, Bill Cowell of Grants Pass, Dennis Murphy of South Medford, and David Heard with the Crater Girls amazing Title game runs, but nothing like the the mid 2000's with Hidden Valley and South Medford Boy's teams embossing their name in the history books.
That, along with Cascade Christian HS of Medford winning two Titles in 3-seasons will forever be a highlight in Hoops History from my home area of Medford-Grants Pass.
It was the best two-year period that southern Oregon has experienced ever.
In 2006 Hidden Valley of Murphy (South Grants Pass) claimed the 3A Boys Title, and were followed by South Medford's 6A Boy's Title in 2007.
Although, without question, South Medford's Title win with Kyle Singler in 2007 is the biggest sports story to tout about in many of years, but the Hidden Valley 2006 Title team seemed more exciting.
Perhaps South was expected to win, and nobody knew who, or where Hidden Valley is, or was!  Hidden Valley enjoyed a swan song Title for sure, and I share this with you as we enter the NCAA Final-4 weekend.
Enjoy, and to the young men I got to know from Murphy and south Grants Pass….the Hayters, Kasler, Reyes, Saeger, Demith, Kirchner, and Crowe..and Coach Jackson, and staff…thanks for 'ONE SHINING MOMENT.'
2006 OSAA PREP 3A CHAMPIONS BOYS BASKETBALL- HIDDEN VALLEY HS
(Click below to hear end of 1st Half 2006 OSAA 3A Boys Basketball Title Game)
OSAA 3A TITLE Boy's Basketball;Hidden Valley v LaGrande 2006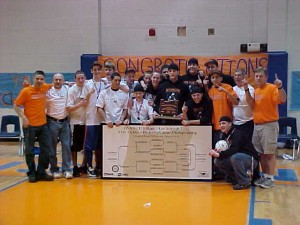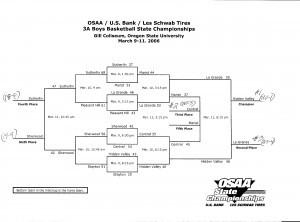 2006 OSAA 3A Boys Basketball Title Game 2nd Half