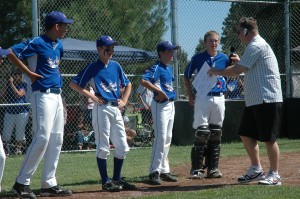 The Bend South All-Stars returned home to Bend Monday after falling short of winning the Little League N.W. Regional Tournament in San Bernardino, California on Saturday, and punching their ticket to the Little League World Series.
The Oregon State (11/12) Champions were defeated by Montana, 7-1 in the Championship game  televised nationally on ESPN-TV.
Bend South advanced to the Title game by beating Washington, 4-3 and avenging and earlier pool play loss to the North Bothell All-Stars.
Bend South eneded the post-season with a 11-3 record including an undefeated run to win the District Title, and State Title.
The South Stars are the first team in the high desert region to advance to the NW Regional since 1964 when Jefferson County-Madras appeared.
It also marked the first time Bend hosted a State Tournament, and the first State Title for any Bend LL team.
The Little League World Series begins August 18 and concludes with the Championship on August 27th in South Williamsport, Pennsylvania.
N.W. Regional Results:
Idaho 9  Oregon 6
Oregon 10  Montana 6
Washington 9  Oregon 4
Oregon 14  Wyoming 0
Semis:
Oregon 4  Washington 3
Championship:
Montana 7  Oregon 1
2011 Bend South All-Star Team:
Coach Brad Waterman, Terran Libolt, Jake Reinking, Justin Parsons, Troy Viola, Kellon Heath, Cal Waterman, Darryl Fristedt, Dylan Ricker, Cam Davis, Jack Husmann, Cam Baker, Noah Yunker
Thanks to Evergreen Home Loans, Robberson Ford, The Phoenix, Weeks Family Medicine, Smolich Motors, Cheerleaders, American Energy-Chevron for presenting LIVE Little League Baseball on ESPN Radio 940…!