The Sisters Outlaws rode the arm of Senior Jardon Weems to a shut out victory over Elmira on Friday afternoon for their 10th straight win. Sisters 2 Elmira 0.
The Outlaws have not lost a Sky-Em League game since May 3, 2011 to Elmira, 3-2.
Weems gave up just two hits in his second straight complete game shut-out victory.
The Outlaws left 10 men on base, including leaving the bases loaded in the second, on only 4 hits.
The first run of the afternoon came in the 5th inning, when Senior Joey Morgan was forced home with the bases loaded when Freshman Ryan Funk became the third Outlaw hit batsman.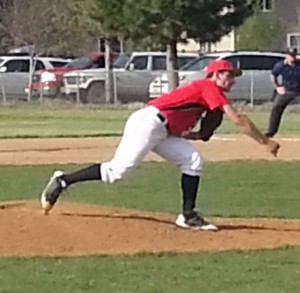 Sisters rounded out the scoring when Junior Jonathan Luz grounded into a double play with at the bottom of the 6th with no outs, scoring Sophomore Alex Ortiz from third.
In the seventh, Weems put Elmira down, 1-2-3, ending the game with his 7th strike out of the evening.
#1 Sisters maintains their spot atop the 4A-5 Sky-Em League with a 10-0 record in the league, and an overall record of 15-2.
Their only losses of the year happening when Sisters went to Bend H.S. on April 4th and earlier in the year when they faced Sierra Canyon at the Salt River Classic in Arizona in late March.