Hundreds of avid golfers converged on Pronghorn Golf Club in Bend Tuesday evening to attend a clinic headed by PGA professional Fred Funk, all for the benefit of local non profit Devin's Destiny.
Onlookers listened as Funk answered questions, related funny stories and demonstrated how to improve their golf game.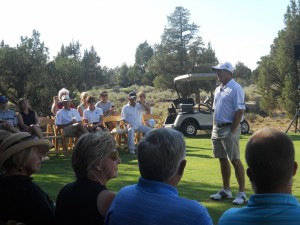 Funk stressed that there is no perfect golf shot and every golfer needs to find a shot that suits them.
"You have to learn what your shot is and get used to it," said Funk as he prepared to drive another 60 yard shot into the Pronghorn driving range.
Earlier in the day, before the clinic, Funk played 18 holes with eight other golfers.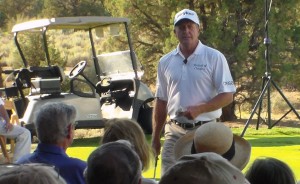 Funk is the first golfer to win on a PGA sanctioned tour after having full knee replacement. "It gave me my career back," said Funk. "You have to make some sort of adjustment for whatever's hurting."
Funk is still active in the PGA tour and recently teamed up with Jeff Sluman to win the 'Big Cedar Lodge Legends of Golf' tournament.
The tournament took place earlier this year as part of the Champions Tour, a tour for golfers 50 years and older.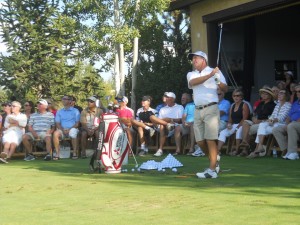 The event at Pronghorn raised money for Devin's Destiny, headed by Bend citizen Rick DeLuca who founded the organization in 2010, after the untimely passing of his son Devin.
"Devin's heart was with the homeless and he loved little kids," said DeLuca of his son, "So we simply combined those two passions and came up with a pretty simple little idea."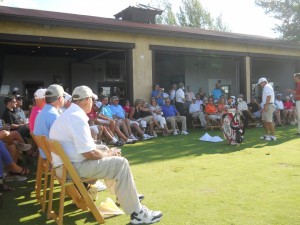 Devin's Destiny provides birthday parties for homeless and at risk children throughout Bend and works in cooperation with the Family Access Network.
"Over the past four years we've already provided 600 birthday parties," said DeLuca.
The event was a success for Funk, the attendees and for Devin's Destiny, according to Brandon DeLuca.
"It went really well, I know it's already raised a couple thousand dollars," said DeLuca. "Fred was real good with the crowd, I think a lot of people took a lot of tips away and had a good time listening to him tell stories… It's our highest attended benefit and we're always looking for different ways to spread the message."
FOR MORE INFORMATION ON DEVIN'S DESTINY:
Devin's Destiny website: http://www.devinsdestiny.org/news.html
LIKE Devin's Destiny on Facebook
[buzzsprout episode='198213′ player='true']