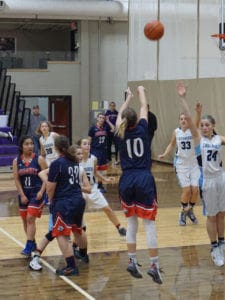 (Above photo: #10 Kaylene Ritter pulling up for a mid-range jumper)
To say Kaylene Ritter is a beast would be an understatement. The senior stand out is coming off a second team all-conference junior season and is having an even better senior campaign, averaging 21.3 PPG, 5.3 RPG, 4.7 SPG and 2.4 BPG.
To add to the 5-foot-9 guard's impressive resume,  she holds Phoenix's school record for most points in a game with 41. She broke it earlier this year in a win at home against Sweet Home, scoring 41 points and tallying eleven steals. She shot an impressive 17-26 (65.4%) from the field and 5-9 (55.5%) from the three-point line. "This didn't just happen, I put a lot into basketball over the years and have worked really hard. I credit my coach and teammates as well, they're who encourage me and push me," is what Kaylene told me after I asked her who or what does she credit her early season success to.
Kaylene Ritter began her basketball career as a South Medford Panther. After moving with her parents, she started her Junior year at Logos. During her time at Logos, she attended a couple open-gyms at Phoenix high school. Shortly, after she decided to transfer to Phoenix and play basketball for them. "I just felt like they (the Pirates) were a great fit for me and i really liked playing with them (the Pirates)," was Kaylene's response, when asked why she transferred to Phoenix.
A closer look at the numbers: On the year, Kaylene is shooting 60-122 (49.2%) on 2-point field goals and 18-58 (30.8%) on 3-point field goals. She is shooting 18-23 (78.3%) from the free throw line. She is also averaging 1.7 assists and 2.00 turnovers a game. Of her 48 rebounds, 22 of them are offensive and 26 of them are defensive.
If your asking yourself, "Man, Kaylene Ritter sounds familiar?" that's because her sister is former Panther stand-out Andrea (Andee) Ritter.  Andee plays for UC Irvine now and tied a school record earlier in the year with 7 three-pointers in a single game. She also has added three 20-point outings on the year. I asked Kaylene if her sister has influenced the way she plays on the court and she emphatically said, "Yes, I really look up to my sister (Andee)… My play, is a lot like her's from watching her play so much when I was younger."
Kaylene is deciding on attending either Vanguard University or Arizona Christian University next year, where she will pursue a possible career in veterinary medicine or physical therapy. The basketball stand out also likes art and music and says that in her free time she really likes to doodle and play the piano.