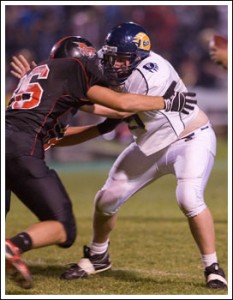 Having grown up in the old Grants Pass Cavemen versus Medford Black Tornado football rivalry of the 60's, 70's, and 80's..and even the unbelievable double-overtime 1994  Semifinal showdown at Autzen between to two prep titans of the gridiron, I've come to learn that anything can, and will happen in a rival game.
So, now it's my first experience to witness first hand the 32nd rendition of the high desert 'Black-n-Blue' Civil War with #5 Bend (6-1) hosting #3 Mt. View (6-1) tonight.
And, I'm expecting the unexpected tonight betwen the Lava Bears and the Cougars as the fur is sure to fly in this 32nd annual affair that kicks off at 7p with LIVE  streaming audio at www.playactionsportsmedia.com, and at www.oregonlive.com.
What I witnessed in the Tornado v. Cavemen rival games was the game was usually won in the trenches where all the pushing and shoving and grinding happens.  I'm sure it will be no different tonight.
Bend holds a 16-15 all-time series lead, but Mt. View has won 4 of the last 5 contests. Perhaps the 'home-field'  will be an advantage somehow, someway as the 'home' team has won the last 3 cross-town clashes.
Like the Tornado and Cavemen epic battles, there have been some tremendous matchups in this series over the years, too.  On paper this year, most view Mt. View as the better team, but that's why we play the game, right?
Bend had its 6-game win streak snapped last week in Portland losing to (6A) Lincoln, 35-26.  Meantime, Mt. View made quick work of Summit, downing the Storm, 49-12.
Both teams have senior leadership and experience going in to this game that will determine the I-M-C Championship, and setting up both teams for the 'Play-In Round' on November 4th before both will be seeded in the OSAA bracket for the 'Playoffs.'  Provided they both win in the 'Play-In' round.
Play-in, Play-off, Play-on…whatever!  This game tonight is for City bragging rights, and has had the feel all week as that of the 'Superbowl-32' of central Oregon.
Experience may prove to be the difference, and the difference is surely to come down to experience this evening after 48-minutes of play.
Both teams have senior leadership and plenty of big-game experience in the likes of Bend's J.C. Grim, Kenny Dailey, Gavin Gerdes, Zach Johnson, Garrett Himes.
Mt. View boasts seniors Joel Skotte, Jacob and Cody Hollister, Dylan Johnson, Nick Thompson, Matt Miller, and Dimitri Dillard to name a few.
Both teams have veteran Head Coaches, and very experienced and passionate staffs with Steve Turner leading Mt. View. 
Turner (Willamet U grad) has kept the program among the top-3 in the State since taking over in 2008.  His record is 17-3 / 34-7 with 1 Semi-final and 2 Quarterfinal appearances.
Craig Walker takes the sideline for his final battle of the  Civil War having endured and experienced 23 rivalry games as the Head man at Bend High.  He is retiring after this season.
Walker (Western Oregon U grad) has won 61% of the clashes (14-9), and has a 15-18 playoff record including a 2007 showing in the Semifinals, and 6-quarterfinal games where he has garned just 1-win in that round.
When both coaches were asked if a team and its players can get too jacked up for this game, they each had similar responses based upon their own experience as collegiate players, and savvy sharp prep coaches.
Steve Turner: "oh, I think you can. It's such an exciting game, but you want to make sure that on Friday night you're ready to go, and sometimes people get too fired up early in the week and leave it on the practice field."
Craig Walker: "oh yes, yes…and yet I don't ever want to minimize this contest. However, I also think you make a mistake in doing that. Now, the key is how you can control that emotion, and you need to do that in a game like this."
Many times in rival games, the emotions overrun reason, and there are big plays, key turnovers, untimely penalties, and the unexpected.  And, many times it comes down to the final possession, or play of the game.
Will it turn out that way tonight?  On paper, it appears it will as both teams are pretty similar in yearly statistics.
It could come down to the final push at the line of scrimmage that turns in to a shove that leads to a first down, or score to seal the deal for one team, or the other.
I'm thrilled with anticipation to see what transpires as both parent and booster groups, and alumns will be loud and proud in support of either the Black, or the Blue.
Who tags out tonight?  The Cougs, or the Bears….?  Good luck to both!