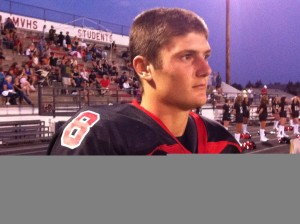 MT. VIEW SR. WIDE RECEIVER CODY HOLLISTER PROVES TO BE GAME CHANGER LEADING THE 3RD RANKED COUGARS TO 42-0 WIN OVER NORTH MEDFORD IN THE HOME OPENER.
CODY PLAYED WITHOUT HIS TWIN BROTHER, JACOB, AT QUARTERBACK, AND ALL-STATE LB/RB JOEL SKOTTE WAS LIMITED BOTH DUE TO INJURIES.
BUT, THE ALL-LEAGUE SENIOR WIDE OUT, GAVE THE COUGARS A LIFT THEY DEARLY NEEDED LATE IN THE 2ND QUARTER (:53) WHEN HE RETURNED A PUNT 58 YARDS TO EARN A 14-ZIP LEAD JUST BEFORE THE BREAK.
LATER, HOLLISTER WOULD HAVE A 66 YARD PUNT RETURN CALLED BACK ON AN ILLEGAL BLOCK IN THE BACK.
THE COUGARS STARTED SLOWLY AND LOOKED SLUGGISH, BUT REBOUNDED TO IGNITE FOR 3 THIRD QUARTER TOUCHDOWNS, ALL COMING FROM THE DUO OF DIMITRI DILLARD, AND KYLER AYRES.
DILLARD ENDED THE GAME WITH 3 TD RUNS ON RUNS OF 14, 15, AND 37.  AYRES POUNDED OUT A 6-YARD SCAMPER.
DILLARD CAPPED OFF THE NIGHT 17-CARRIES FOR 195-YARDS, AND THE JR. BACKUP QB, TOBY WEBB FINISHED 7 OF 10 FOR 92 YARDS.
MT.VIEW HELD A SLIM 14-0 LEAD AT HALF INSPITE OF 4-FUMBLES, 3 OF WHICH FELL IN TO THE HANDS OF THE BLACK TORNADO, BUT LED TO NO POINTS.
THE COUGARS (2-0)  HIT THE ROAD TO FACE #2 SHERWOOD (2-0) IN A REMATCH OF THE 2010 STATE SEMIFINAL SHOWDOWN WICH THE BOWMEN WON 42-22.
HERE'S THE AP TOP-10 SCOREBOARD FOR WEEK-2, SEPTEMBER 9TH:
 6A PREP FOOTBALL POLL SEP. 7
 1. Jesuit    (L) (1-0)    @ #3 Sheldon  52-37                 
 2. Aloha                      (1-0)    vs. #6 Tualatin  14-10                
 3. Sheldon                   (1-0)   vs. #1 Jesuit      52-37    
 4.Lake Oswego          (1-0)     @ Westview    35-3    
 5.Roseburg               (1-0)      vs. Sprague      48-0        
 6. Tualatin     (L)       (1-0)       @ #2 Aloha     14-10             
 7. South Medford      (1-0)      vs.Beaverton  31-8           
 8. Tigard                     (1-0)    vs. #9 Grant     49-24              
 9. Grant     (L)             (1-0)   @ #8 Tigard     49-24            
10. Lakeridge               (1-0)   vs.Hillsboro(5A) 46-6 
 Central Cath. def. Canby, , Beaverton  (L), Sprague (L)  Redmond (L) @ Grants Pass, 26-21, Clackamas def. McKay, 50-6
 W.Salem 50  S.Eugene 639-28
Lincoln27  Southridge 20
Crater 35  McMinnville 0
Thurston 63 S. Salem59
5A  PREP FOOTBALL POLL SEP. 7
1. Marist                      (1-0)    @ #9Ashland              49-0                                            
2. Sherwood                (1-0)   vs. Putnam                    59-20
3. Mountain View       (1-0)    vs. N. Medford (6A)  42-0            
4.CrescentValley  (L)  (1-0) vs. #5Corvallis  24-22            
5.Corvallis                 (0-1)      @ #4CrescentValley  24-22             
T6.Bend                      (1-0)   vs. #10 Jefferson        50-22       
T6.Wilsonville            (1-0)       @ Milwaukie                51-6              
8. Churchill    (L)        (1-0)      @ Eagle Point              21-20  (ot)
9.Ashland      (L)       (1-0)      vs. #1 Marist                49-0              
10.JeffersonPDX  (L) (0-1)    @ #6 Bend                  50-22
 Silverton def. Woodburn, 35-34, Putnam (L), Willamette def.Springfield, 35-34, Pendleton def. Crook Co, 49-15, W.Albany def. S.Albany, 53-8
 Summit 70  Benson 0  (Summit ends 23-game losing streak)
Century 48 Wilson20
Eagle Point 21  Churchill 20
Marshfield42  N.Eugene 33
Lebanon28 Dallas0
HoodRiver34 Cleveland20
4A  PREP FOOTBALL POLL SEP. 7
1.Douglas     (L)         (1-0)    @ Elmira           57-27        
2.Astoria       (L)        (1-0)   vs. #7Newport43-20              
3. Central                     (1-0)   @ Estacada        27-0     
4.Gladstone  (L)         (1-0)                vs.Roosevelt    37-21         
5. Banks          (L)        (1-0)   vs. Rainier         20-7      
6. Baker                       (0-1)   vs. Grant Union  48-0            
7.Newport                 (1-0)   @ #2Astoria       43-20       
8.Ontario    (L)            (0-1)    vs. Weiser,Id.      56-9       
9. North Bend              (1-0)    vs.Sheridan         50-6      
10. Siuslaw                   (0-0)    @ Junction City   39-7
 Estacada (L), LaSalle def. Amity, 50-0, Mazama , Sisters (L), Scappoose,
18) Crook County  (L) @ Pendleton, 49-15
OTHER SCORES:
North Valley  20  Cascade Chr. 19
Blanchet 44  Phoenix 13
H. Valley 61  Mt. Shasta, Ca. 12
S. Umpqua 46  Myrtle Pt. 6
Illinois Valley 14  Bonanza 7
Burns 28  Sisters 7
Cottage Grove 39  Sutherlin 16
Madras 38  LaPine 0
S.Home 22  Cascade 16
Lost River 56  Culver 0
Dayton 49 Kennedy 7
P. Hill 34  Regis 16
Scio 66  Oakridge 6
Baker 48  Grant Union 0
Prairie City 54  North Lake 0
Hosanna Chr. 66  Gilchrist 22