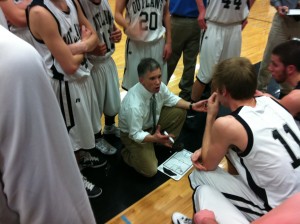 The Sisters Outlaws opened its own 'Sisters Holiday Tournament' by blowing out Burns, 63-28 to open the 3-day, 3-game annual event.
The Outlaws (6-2) , currently ranked 8th in the OSAA Power rankings, just may well have a legitimate Final-4 team in the making from what I saw 'how they roll' tonight on the home hardwood.
Head Coach Rand Runco (pictured above) seems to have a team that many in between the roundball circles are talking about as a contender to get to Gill Coliseum in early March and play the hand they have in hopes of taking the OSAA 4A Title Trophy away from Phoenix.
No doubt, there's alot of ball between now and Tourney time in March, but Sisters has the experience with only 2 juniors, and one being a perennial All-State Player in Eli Harrison who pumped in 17-points, including five 3-point Field Goals.
(click on links below to see videos)
SISTERS #11 JR. ELI ERICKSON FOR LONG 3 BALL
Joining Harrison is Sr. Wing, Chase Goff, who led all scorers with 18, and Sr. Guard John Erickson dropped in 10.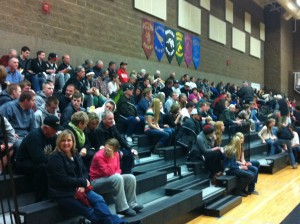 SISTERS ELI HARRISON OFF DRIBBLE JUMPER FOR 2
Sisters led by 30 at Halftime, 41-11.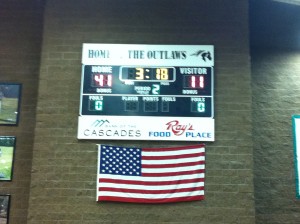 The Junior, Eli Harrison (below) draws the double-team early in first half which opened up teammates Goff, and Erickson.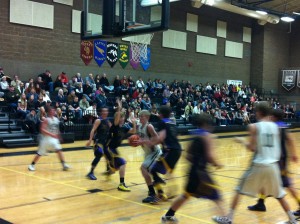 (click on link below to see video)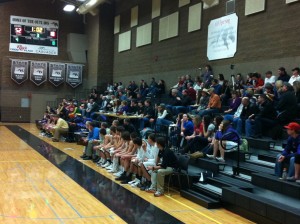 The Outlaws play Seaside Wednesday at 6p in the Tournament Semifinals. The Championship game is slated Thursday at 5p.  Crook County meets Philomath in the other semifinal.