Friday was the first day of 2 day qualifying for the OSAA Prep State Track and Field Championships at Summit High School, and Summit fans had plenty of reason to cheer.
Summit boys won the 2-day event with 160 points, followed by Bend-119, and Mt. View-98.
The Storm girls dominated the event with 286 points. Mt.View was second with 97 points, and Bend with 82.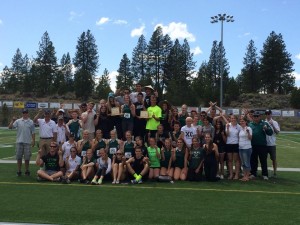 Friday's action started with some concern for Summit, however.
With a brace on his leg, and with an ankle he "rolled" yesterday, Junior Matthew Maton of Summit would have had every excuse not to take 1st in the 3,000 meter race.
Maton powered through the pain and beat Kevin Van Dyke of Eagle Point by 6 seconds, at 9:04.4.
Maton holds the state record this year with a time of 8:18.6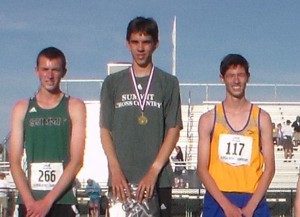 Dantly Wilcox of Mountain View also qualified for the State Championships at Hayward Field in Eugene next week as the junior won the 110 High Hurdles and the 300 Hurdles.
Wilcox beat Bend's Brandon Gilbert in the 110 at 15.19, and a wire-to-wire win in the 300 with a time of 40.66.

Other Boys winners included: Christopher Adamo of Mountain View in the 100 meter, with a time of 11.25 seconds. Braden Bell of Bend in the 200 meter (22.66 seconds), and Logan Blake of Bend in the 400, at 51.33.
While the competition was pretty even among schools on the Boy's side, Summit dominated the Girl's events completing a sweep of all running events.
Sophomore Hannah Cochran of the Summit Storm posted a personal best time of 25.83 in the 200 meter, narrowly edging out her team mate Alexa Thomas by .03 seconds.
Brianna Bolster of Mountain View came in 3rd another .16 second later. All three qualified for State next week.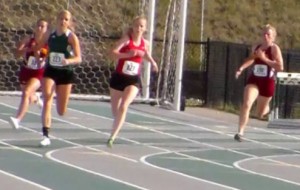 Miranda Brown also took first place in the Long Jump and Triple Jump. Senior Danielle Taylor of Summit finished first in the high jump clearing 5′ 4″.
Summit went on to claim the District Championship again in both the Boys and Girls divisions, and will shoot for their 8th straight Girls Title in Eugene. The Boys team aims for its 4th straight OSAA Championship under Head Coach Dave Turnbull.
See complete results on the Special District-1 Class 5A Track Championships here.