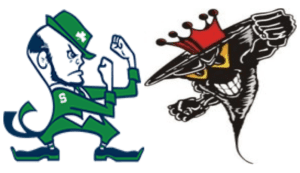 Bold-Winners
**-Game of the Week
Girls basketball schedule 1/23-1/29
Tuesday 1/23
Roseburg @ North Medford
Grants Pass @ South Medford
St. Mary's @ Etna
Friday 1/27
North Medford @ Sheldon
Willamette @ Grants Pass
South Medford @ South Eugene
Thurston @ Crater
Churchill @ Eagle Point
Marist Catholic @ Ashland
Klamath Union @ Phoenix 
Cascade Christian @ St. Mary's 
Saturday 1/28
Horizon Christian @ Cascade Christian 
Boys basketball schedule 1/23-1/29
Tuesday 1/24
North Medford @ Roseburg
South Medford @ Grants Pass
St. Mary's @ Etna
Friday 1/27
**Sheldon @ North Medford**
Grants Pass @ Willamette
South Eugene @ South Medford
Thurston @ Crater
Eagle Point @ Churchill
Marist Catholic @ Ashland
Klamath Union @ Phoenix
Cascade Christian @ St. Mary's
Saturday 1/28
Horizon Christian @ Cascade Christian 
Last week's game of the week: Willamette Wolverines (7-8, 3-2 MWL) at North Medford Black Tornado (12-4, 4-0). North Medford's senior post Brad Allen and junior wing Kaison Faust scored 14 points and grabbed 10 rebounds a piece in a 58-33 victory and helped stretch the Black Tornado's winning streak to 11, remaining OSAA's third rank team. Oscar Banuelos came off the bench in the fourth quarter and scored six straight points to help put the game out of reach.
**Game of the Week-  The 25th ranked Sheldon Fighting Irish at Third rank North Medford Black Tornado.
Why? Yes, we chose North Medford's game last week as game of the week but, how could we not again? The first time these teams squared off at Sheldon the Black Tornado edged out a 65-62 victory, giving Sheldon their only Southwest Conference (SWC) loss on the year.
A look at the numbers: North Medford is 12-4 overall and 4-0 in SWC play. They have scored the most points in the SWC with 970 (60.6/GM, second most) and have given up the third fewest points with 879 (54.9/GM, second fewsest). The Fighting Irish are 8-6 overall and 4-1 in the SWC. They have scored third most points in the SWC (60.9/GM, third most). They have a given up the second fewest points with 833 (59.5/GM, third fewest).
Prediction: North Medford will edge out Sheldon for the second time in two weeks, claiming a 53-50 win. These teams are both experienced with 10 upperclassmen a piece, however North Medford has momentum and home court advantage on their side. Sheldon is coming off a second place finish in the SWC and are returning eight players from that squad. We predict that they will use that experience to jump out to an early lead but, that explosive North Offense will come alive in the fourth. Our player to watch in this one is 6-foot-9 senior post Brad Allen, who has been balling this year, averaging 12.6 PPG, 10.6 RPG, 1.6 SPG and 1.3 BPG. Allen will have a favorable matchup in this one. The Fighting Irish's tallest player is a 6-foot-5 senior post Kyle Rygg. Lets just say Allen's going to eat Friday night.
Where can it be watched: At Tablerocksports.net. Tip time is set to begin at 6:45 PM and broadcast time is set to begin at 5:45. Demi DeSoto and Chris Janisch will be on the call.