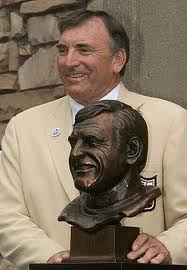 I've had many great experiences in my lifetime of growing up in Sports in Medford, Oregon, and I've met alot of very good people in my travels of sportscasting, and basketball officiating, but today was the pinnacle.
Having been a young fan of the original San Francisco 49-ers, before the Montana, Rice, Lott, and Clark era, it was an honor today to meet one of the games best of all-time.
Hall of Famer, and 7-time Pro Bowler Dave Wilcox took time to share his memories and stories with us.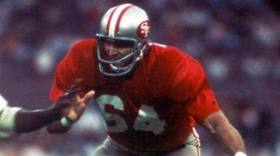 Truly one of the fiercest competitors ever in NFL history, and nicest guys off the field, it was such a thrill to have Dave take his precious time to speak with us.
And, just imagine if #64 were playing today. He would be among the highest paid in the game, and deservedly so.
It's almost criminal that the NFL doesn't find a way to compensate guys like Wilcox today for what they made the NFL-a multi-billion dollar business.
As it is now, and was in my childhood days growing up, Dave Wilcox is a true Legend, and gentleman. They just don't make 'em like him these days, and never will.
[buzzsprout episode='74917′ player='true']