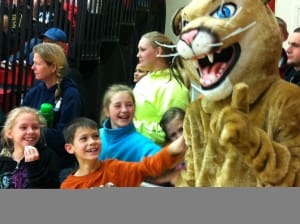 Tuesday night Hoops in the High Desert…the Cougar a hit with kids at Mt. View on this night!  :o}
Sr. James Reid of Mt. View scored well below his season average with just 15 points, and the #2 Cougars roll on to thrash Summit, 63-36.
Mt. View rebounded strongly after suffering a loss to 4A #5 Sisters Saturday night on the Cougs home hardwood.
Mitch Modin pumped in 13 and the Cougars improve to 10-4, and visit crosstown rival Bend (8-5) Friday night.
Mt. View converted for 24 points off Storm turnovers.
Bradley Labacher led Summit (6-8) in the loss with 11 and this nice breakaway late-game dunk in the Black Hole.
LaBacher, like Mitchell Wetting last year is a very nice player, but may be ahead of his time as Summit is eager, but very young team. The Storm host Crook County (4A) Saturday 1:45pm.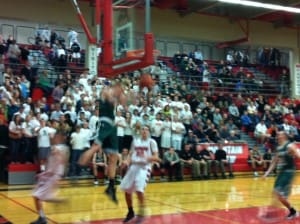 Meantime…….
The #8 Bend Lava Bears showed vast improvement from a loss I witnessed they suffered to Madras before Christmas, but Don Hayes and his staff have the Bears focused, and also have 3 guys back and ready from football, similar to Mt. View.
Bend got a good jump on Redmond (7-6) early with Sr. guard Hayden Crook dropping a few outside jumpers to give Bend an early lead.
Sophomore Connor Scott, who's dad Chris is Bends JV Head Coach, led all scorers with 25 points to lead Bend to a 79-64 win.
Below, Junior Cody Connelly fires a 3-ball at the end of the first half with Bend leading 34-28.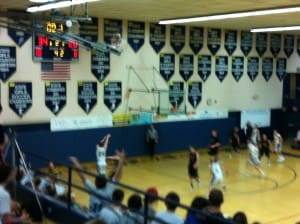 #8 Bend vs. #2 Mt. View-Friday Night 7p
Pregame Show 6:45p ESPN Radio 940-AM