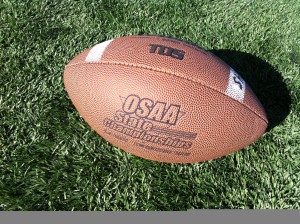 No change in the top rated teams in this week's AP Prep Football Poll as compiled by a panel of statewide sportswriters, broadcasters, and media.
I have been honored to cast my weekly opinion with AP for over 7-years, and I agree with the panelist on this week's distribution of fortune. 
The latest released AP Poll is below.
Sheldon tops the 6A, with Marist, another Eugene based-team holding down the 5A level, and Central taking over the 4A divison.
However, Siuslaw makes noise and a big jump in 4A popularity as does North Bend who has ditched the double-wing set in favor, and better flavor of a 'spread' wide-open offense.
Defending 6A Champion Aloha took a big tumble in its fumble losing Friday afternoon at Grant.  The Warriors fell to #7 after sitting 2nd.
The Generals have reappeared in Top-10 again, apparently convinced by media they are not overrated from PIL. We'll see….?
Aloha gets the bounce-back test hosting #7 Lakeridge which is a team and program on the move under Tom Smythe. 
Some of this week's best games include #2 Lake Oswego at #3 Jesuit in the 6A showdown that is nationally televised Friday at 7p on ESPN-U.
You can hear LO head coach Steve Courey Thursday at 5:30p on 'The Biggest little Sportstalk Show in Oregon'  on ESPN Radio 940-AM in Bend.
Coach Courey told me today, "we've had some great matchups with Jesuit and Coach Potter always has a good game plan."  The former Beaver All-American wide receiver added, "But, Central Catholic is still a team to watch out for with both QB's returning after injuries.  We're really excited about this game being on ESPN-U."
Another exciting matchup early in the 2011 season  has #3 Siuslaw hosting    #2 Newport.
Both teams have been early media darlings, and the state will know for sure which one of the two can be a serious Final-4 contender come early December in the OSAA Championships.
Join me weekdays at 5p, and we'll take you inside Prep Football and the Ducks and Beavers like no other sports show….see you at 5p on ESPN Radio 940-AM.
AP  Class 6A  Football Poll Week-4 Sep. 19
1. Sheldon (3-0)                    @       Grants Pass
2.Lake Oswego(3-0)           @        #3 Jesuit
3. Jesuit (2-1)                        vs.       #2 Lake Oswego
3.Roseburg(3-0)                  @        #11 Thurston
5.South Medford(3-0)        vs.       Crater
6. Tigard (3-0)                       vs.       Glencoe
7. Aloha (2-1)                         vs.       #7 Lakeridge
7. Grant (3-0)                         vs.      Beaverton
7. Lakeridge (3-0)                 @        #7 Aloha
10. Tualatin (2-1)                   @        Newberg
 OUT= W.Linn;   #12 Central Catholic  @ Westview
AP  Class 5A  Football Poll Week-4 Sep. 19
1. Marist (3-0)                        @       Springfield
2. Sherwood (3-0)                 @       St. Helens
3.Corvallis(2-1)                     vs.      Jefferson
4. Bend (3-0)                      vs.       Sandy
5. Mt. View (2-1)               vs.       S. Salem (6A)
6. Wilsonville (3-0)              vs.      Lebanon        
7.CrescentValley(2-1)       @        Putnam
8. West Albany (2-1)            @       Liberty
9. Willamette (3-0)               @       Ashland
10.Lebanon(2-1)                   @        #6 Wilsonville
 Others: Ashland,  Silverton,  Jeff,  St.Helens
AP  Class 4A  Football Poll Week-3 Sep. 12
1. Central (3-0)                      vs.       Scappoose
2.Newport(3-0)                    @        #3 Siuslaw
3. North Bend (3-0)            @        N. Valley                    
4.Siuslaw (2-0)                     vs.       #2Newport
5.Astoria(2-1)                       vs.      Cottage Grove
6.Douglas(2-1)                      @        Estacada
7.La Salle(3-0)                     vs.       Cascade
8.Elmira(2-1)                        @        Stayton
9. Scapposse (3-0)              @        #1 Central     
10. Baker (1-2)                      vs.       Vale
10. Banks (1-1)                      vs.       bye
12) Sweet Home
#13 Crook County (2-1) @ #15 Madras
#14 Gladstone(2-1) vs. Sisters