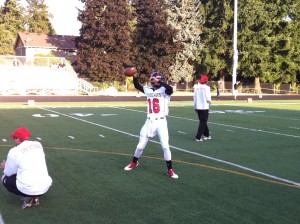 The defending state class 5A Champion Sherwood Bowmen routed the #3 Mt. View Cougars, 41-18 in a showdown of two teams that met in last year's Semifinals.  The Bowmen won that game, too, 42-22, enroute to the school's first Title in three Championship game appearances.
Mt.View saw the return of its All-State Sr. Quarterback (pictured above) Jacob Hollister who sat out last week's 42-0 rout of North Medford, but the senior struggled to complete just 4 of 11 passes for 40-yards without a score.
However, Hollister's brother, Cody, returned the opening kickoff 90-yards for an electrifying start to give Mt.View a quick 7-zip lead.
Sherwood responded on its first possesson with a 11-play 60-yard drive capped by a 3 yard TD run by wingback A.J. Spencer to tie the game 7-7.
The Cougars marched right down to the Bowmen 11 yard line, but were stalled and forced to settle for a 28-yard Bryce Tipton field goal and a 10-7 lead.
That lead did not last long as Sherwood would score 5 unanswered touchdowns owning a commanding 41-10 lead until the Cougars scored their only offensive touchdown of the game with a 2 yard TD run by Dimitri Dillard with 2:54 to play.
Dillard notched his 5th TD of the young season while leading Mt.View with 75 of the Cougars 143 yards rushing.
Sherwood imposed its will on the Cougar defense in the second half in the patented 'double-wing' offense as they rushed for 216 yards and 5 TD's when it was all said and done.  Sr. Dusty Crabtree threw for 136 yards including a 22-yard strike to Paul Dodson with :26 seconds to play in the first quarter giving the Bowmen a 14-10 lead they never relinquished.
The Bowmen did get a couple of huge breaks midway in the first half, however, to take a 20-10 lead at the intermission.
The Cougar defense held Sherwood and forced a punt with 9:25 to play first half, but the return was muffed and the Bowmen pounced on the ball.
Moments later, Mt. View's defense would hold again, and forced a punt, or so it seemed it was a punt, when in fact the Bowmen faked it, and threw a first-down strike to fullback Travis Dyer keeping the possession alive.
To add insult, the Cougars were penalized 15-yards for roughing the passer-punter. Two plays later Dodson plunged in the end zone from 1-yard out with 4:46 to play in the first half. 
Mt. View appeared to start the second half with a huge turnover as Dodson fumbled just 2 plays in to the 3rd quarter as Dimitri Dillard recoverd the loose ball.  But, the Bowmen defense flexed its muscle and forced the Cougars to punt.
From there Sherwood would score on 3 of its next 4 possessions.
Mt. View (2-1) will play host to South Salem (Class 6A) Friday at Jack Harris Stadium. The Saxons lost to Canby, 41-24.
Sherwood (3-0) travles to face St. Helens.