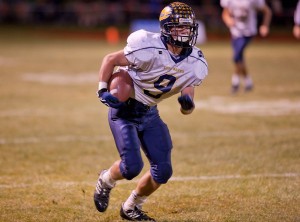 The 5th ranked Bend Lava Bears made a statement from the opening possession of the night at Summit High-Drew Bledsoe Field as the Bears marched 80-yards in 16-plays capping the drive with a 1-yard TD run by Sr. Gavin Gerdes enroute to a 38-0 win over the #11 rated Storm.
HEAR GAVIN GERDES 1 YARD TD RUN FOR LAVA BEARS
Bend entered the game averaging 154-yards on the ground, and pounded out a season high 261-yards against Summit to improve its record to a perfect 6-0 mark.  
"This game is about the Bend Lava Bears and how we can improve, and we spent all week taking care of our running game" said 24th year Head Coach Craig Walker before the game. 
"Our kids are hungry and we're at a point in our season where we dont' care who is in the other jerseys, it's about what the Lava Bears are doing."
Summit (4-2) saw its magical season win streak of 4 games halted abrubtly in the inter-city showdown of which Bend has won 7-straight.  The last Summit win over the Bears was in 2004, 52-28.
Summit committed 5 turnovers, 4 of which were interceptions from Sr. QB Max Lindsay who finished 7 of 21 for 158-yards.  Lindsay had a 60% completion mark with 9-TD's and only 3-interceptions before meeting the Lava Bears.
The Storm also fumbled on a QB sneak on first and goal from the Bend 1-yard line with Bend leading 28-zip to start the 4th quarter.
"Max wanted to sneak it in and asked for the play, so I said go for it, but he just didn't cover up the ball enough and they ripped it loose."
Summit Head Coach Jerry Hackenbruck added, "Max has led us all year and has made some very good decisions, but tonight was not our night as he knows he made some bad choices on balls." 
"And, not having 2 of our key guys most of the night didn't help either against a very good team like Bend, but I hope we respond next week at Mt. View.       I only wished we could face Crook County and Redmond before the Cougars, but we'll go back to work Monday for Mt. View."
Summit played most of the night without two of its best skill players in Sr. WR Cole Thomas, and So. RB J.T. Evans.
Evans was literally knocked out early by the Bears as he managed just 3-yards on 7-carries.  Evans had 3 straight 200-yard games, and came in averaging 160-yards per game as the State's 4th best rusher in the 5A division.
Bend's defense grounded the Storm's running game allowing only 49-yards on 24-carries.
Thomas caught 3 passes for just 31-yards as Bend never let the speedburner out of their sites. 
Only once did Thomas get free to cause alarm when he took a low snap on an attempted punt play, and scampered off the right edge for 7-yards, and a first down to keep the Storm possession alive.
HEAR BIG PLAYS BY COLE THOMAS AND BRENT MENEFEE OF SUMMIT
However, Thomas was slow to get up and appeared to have injured his arm on the tackle. Neither Evans, or Thomas returned to the game, and no word on the extent of either injury.
3 of Lindsay's passes were intercepted in the first half, two by Sr. defensive back Danny Verdieck, and one by Dallas Fagen.  Verdieck would steal another Lindsay offering with 2:32 to play in the 3rd quarter. 
HEAR 2ND OF 3 DANNY VERDIECK INTERCEPTIONS
"We heard alot of talk all week about how Summit was going to take it to us, but we wanted to show them that we are the better team, and we did," said Verdieck.
The Lava Bears cashed in 3 of the 5 miscues for scores with Jr. tailback Lucas 'Duke' DeGaetano stuffing the ball in the end zone with 4 straight scores after Gerdes' initial TD. 
'The Duke of Bend' sliced in and out of the Storm defense at-will for 147 yards on 28 carries.  Gerdes tacked on 56-yards on just 9 touches.  Bend ran 63 plays to just 47 for Summit as the Bears recorded its first shutout win of the season.
"The guys up front were awesome and led the way for me all night long, and I'm so happy our guys showed them there was no doubt who is the better team as there was alot of talk we heard."  DeGaetano offered after the game on ESPN Radio 940.
HEAR 1ST OF 4 DUKE DEGAETANO TD RUNS FOR LAVA BEARS
HEAR 'PLAYERS OF THE GAME' INTERVIEWS
Hayden Crook added a 39-yard field goal for his 3rd of the season to close the scoring out for Bend.
Bend travels to Portland to face Lincoln (0-0), while Summit heads across town for the 'East-West' rivalry with Mt. View (5-1).
In Redmond, the 4th ranked Mt. View Cougars defeated the Panthers, 27-6  for their 3rd win of the year against a Class 6A program.
Dimitri Dillard rushed for 119-yards on 26-carries and a 26-yard TD run. 
Dillard, a senior,  has amassed 576 yards and 7 touchdowns on the year behind the blocking of Matt Miller, Chad Bach, Nick Gentry (pictured below-courtesy Mike Roberts), and Brian Chapman, Justin Warren, and Dylan Johnson.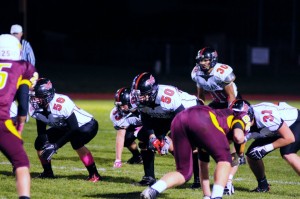 Meantime, Sr. QB Jacob Hollister threw for 3 TD's on 11 of 21 passing for 144 yards, including an 80-yard TD pass to John Carroll.
Hollister has 10-TD's without an interception in 2011.
In Prineville, the Crook County Cowboys (3-3) suffered a 28-7 loss to Washougal, Washington.  The Cowboys entertain Roosevelt Friday in a 'League' game where the winner advances to the post-season.
The Sisters Outlaws (0-6) got 3 TD passes from Sr. QB Shane Groth, but 7th ranked Elmira (5-1) handed the outlaws their 6th loss of the year with a 41-18 Sky-Em victory in Sisters.
LaPine (0-6) suffered its 6th straight defeat falling to Sweet Home, 59-16 and Madras (2-3) was beaten by (5-1) Gladstone, 42-18.  
Thursday night, Sisters greets Cottage Grove, Madras travels to Estacada, and LaPine visits Elmira.
And, 2-time Class 2A Champion Scio (5-1) crushed (2-3) Culver, 52-6.