Former NFL Quarterback, and Washington State Cougar great Drew Bledsoe hosted 'THUNDERSTRUCK–CHIPS FOR TEENS' and a Casino Night Saturday presented by Chris Otto and 7th Mountain Resort.
The annual charity fundraiser benefits Summit High School Boosters, and 'FAN,' the Family Access Network for homeless teens.
(Click here to access Summit Boosters website for details)
http://www.summitstormboosters.com/
Retired MLB stars Alan Embree, and Richie Sexson helped Bledsoe with the event as did other notable sports figures, and many local business owners.
Bledsoe offered his friends a chance to play Texas Hold 'Em poker, 21, craps, roulette, and other dice and card games, plus various auctions, raffles and drawings and prizes.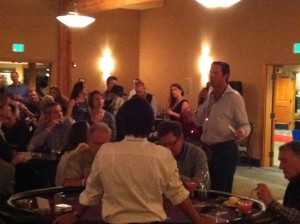 Bledsoe with his wife Maura and family helped engineer a drive recently with several businesses, and local organizations to raise $8 million dollars for the renovation build of Summit High's outdoor athletic facilities, including a new artificial surface with a 9-lane Olympic size and approved track.
 I've been to many fundraisers in my time, and I've been to many stadiums in my career, too, but I have to say Bledsoe's gig rates up there among the best with Peter Jacobsen's party, and the Oregon Sports Awards.
Summit State Champion Track Coach Dave Turnbull provided the music-dance entertainment and dee jay services.
The people and friends I met are some really nice sports minded business people at Bledsoe's invitation, and they all love supporting High School Sports, and kids.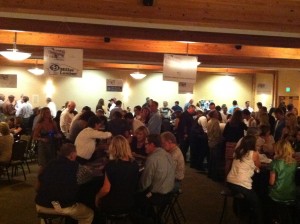 In my opinion, Summit's new stadium is in my Top-3 Prep Stadiums with Grants Pass Caveman Field, and Sherwood's stadium. 
It certainly houses some of the finest Class 5A teams in the State in the Track program who won the State Title last spring, and Girls & Boys soccer teams.  The girls are defending State Champions.
 Not to mention the football team is now 4-1 after winning 4-straight and will host one of its Civil War rival games hosting 4th ranked Bend (5-0) Friday Night.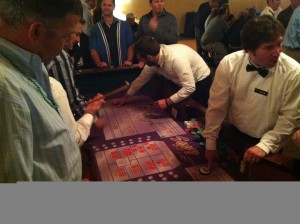 I had a ball playing my fav in rolling the dice on the craps table, and was on a roll, too, literally.  I actually partnered with Alan Embree's sister Tina on a $100 buy-in, and we rolled 14-straight rolls until crapping out.  She had never played before, and seemed to bring our table some of that 'Lady Luck.'  And,I think we helped our tablemates win some Chips for some pretty cool prizes. 
Some great fun was had, too, when a wedding party crashed Drews' Monte Carlo casino night.   Take a peek….
WEDDING PARTY CRASHES BLEDSOE'S GIG
And, the night also included a wedding party crashing Drew's party…..Lol!
(Click below link to see video)
WEDDING PARTY CRASHES BLEDSOE'S THUNDER STRUCK NIGHT