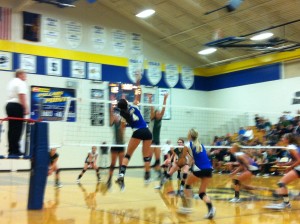 They've met twice before for an OSAA State Prep Championship with Crook County winning both affairs in 2007 & 2009, and nothing was different tonight in Prineville where #1 rated Crook County Volleyball swept top-ranked (5A) Summit 3-0.
Your classic number-1 vs. number-1 border clash with two of Oregon's best Volleyball programs.  Or, should I say 'Dynasty's?'
Crook County is seeking its unprecedented 6th-straight OSAA Title in 2012 in Eugene, and the Cowgirls certainly made a statement by tonight's 25-19, 25-22, 25-18 shutout of the Summit Storm.
A crowd of about 400, plus myself filled the gymnasium up nicely, and safe to say these gals are indeed an attraction, and they probably out-sell Boy's basketball games on most night. 
The place had a 'playoff atmosphere' and it certainly was well worth the hour commute from Bend to check out my first REAL big high desert Volleyball prep showdown, especially with two #1's meeting!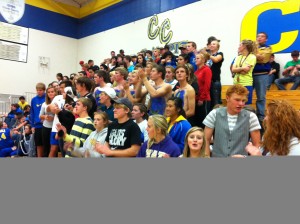 With the win, the Cowgirls improve to a state best 24-1 record and travel to meet Mt. View on Thursday.  Crook County also defeated Mt. View twice, both times for State Titles in 2006 & 2008.
Head Coach Rosi Honl is in her 15th season, and has build a machine. In fact, leading to become one of Oregon's All-Time Best Coaches. 
 That's a spectactular list by the way when you include Ron Smith, Henley Track, and Al Hoffman, Roseburg Tennis, and the many (18) State Titles combined won by those coaches.
Crook County is trying to 6-PEAT!!   That's SIX straight people.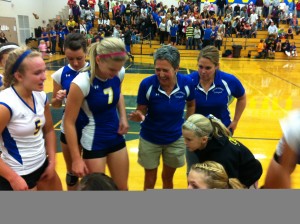 Said Honl hours after the Titan Clash with Summit,  "We played our "A" game and gave the fans some great play to watch. Our seniors all had stellar performances – Kelsey Kemper at setter, Kirsti Kelso at outside hitter and Braiden Johnston at libero."
I don't know Honl's career record, but one only needs to glance at the northeast corner of the Cowgirls home hardwood, and who needs to ask?
HIGHLIGHTS OF CROOK COUNTY ENTERTAINING SUMMIT
What was more impressive, was to watch Coach Honl and her girls make quick work of the #1 5A power, and quiet the Storm that literally blew in to Prineville Tuesday night with some light rain outside the gym.
I kept thinking, "who is going to block them from winning their 6th straight, who?"
Summit Assistant Coach Turner Waskom summed the night up this way, "we served the worst I've ever seen a Summit team serve."  He added, "our service percentage was 75%, and that hurt us bad against a quality team like Crook County."
But, don't feel to sorry for Summit as they still own a respectful 13-4 record, and have been State Runnerup twice in last 4-years.
They'll learn from this loss, and bounce back to host Redmond (7-8) Thursday night before facing Bend next week, and then rolling in to the Clearwater Classic on October 15th.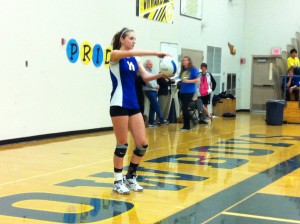 Honl has developed some tremendous young Ladies, and Title teams, and she has praised Jr. Middle Blocker, Makayla Lindburg (pictured above) as being the catalyst of the program today.
Lindburg slammed the Storm for 19-kills.
And, Summit is led by Senior outside blocker Gabby Crowell (pictured below) who will sign a Letter of Intent scholarship with Montana the first week of November.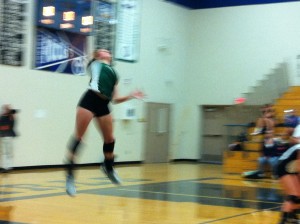 15 kills on the night for #12 who about took a Crook County girls head off with one of the kills that seemed like trying to get out of the way of a Nolan Ryan 95 mph fastball.
It was awesome to watch these two teams compete at a very high level, and attracting by far more fans then even most boy's basketball games.  And, these two teams clearly are the elite, and it was fun to watch them put on a great show with such great skill level.
Something tells me, both Summit and Crook County will be looking to haul back that coveted Blue OSAA Title Trophy in a few weeks in dominating both the 4A &  5A levels.
CROOK_COUNTY_HANNAH_TROUTMAN_WITH_THE_BLOCK