The Bend Elks took down the Corvallis Knights 5-2, earning their way to the West Coast League Championship on Wednesday.
In front of a home crowd at Vince Genna Stadium of 2,060, starting Pitcher Jordan Wilcox (Jr. U of Portland) pitched 5 innings to earn the win, racking up 3 strike outs and giving up 2 earned runs.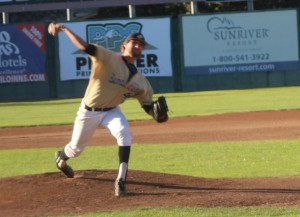 After a scoreless first inning, the Elks got on the scoreboard when Catcher Cooper Hummel (Fr. U of Portland) scored on an errant pick off attempt in the bottom of the 2nd.
The Knights caught up with the Elks in the top of the 4th, when DH Cameron Bishop (Fr. Cal Irvine) went yard with a solo HR.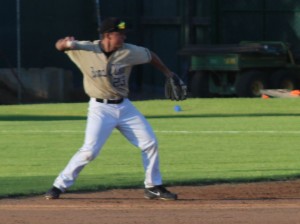 The Elks answered with 3 runs in the bottom of the 4th.
Hummel started the inning with a single. 1B Tommy Lane (Soph. Marshal) walked, then CF Derek Chapman (Fr. WSU) had a bunt single to load up the bases. Starting Pitcher Alex Nesbit (Jr. U of Washington) had a pitch get away, allowing Hummel to score his 2nd run.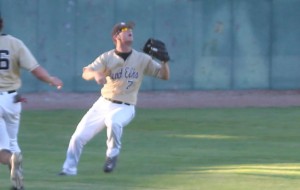 Bend High graduate 2BDalton Hurd (Fr.  Seattle U) slapped a single to right field to drive in Lane and Chapman, putting the Elks up 4-1.
1B Michal Ferris (Soph. Cal Riverside) hit an RBI double off the Sun River sign in right field to drive in 3B Christian Donahue (Fr. Oregon State), to bring the Knights within 2 runs, 4-2 in the 6th.
The Elks rounded out the scoring in the 7th inning, when OF Patrick Flynn (Fr. U of Utah) hit into an RBI ground out, scoring SS Cayden Grenier (Fr. Oregon State).
Combined with their 12-1 victory in Corvallis on Tuesday, the Elks swept the Knights in their best of 3 series.
The Elks go on to the WCL Championship and will face the winner of the rubber game of the Bellingham and Kelowna.
The first game of the 3 game series will be Saturday night, and will be at either Bellingham or Kelowna, then on Monday the series comes back to Bend.