Monday night the Bend Elks (39-16) completed the sweep against the Kelowna Flacons (34-19) to win their first West Coast League Championship 10-4 in front of a home crowd of 2,533 at Vince Genna Stadium Monday night, August 17th.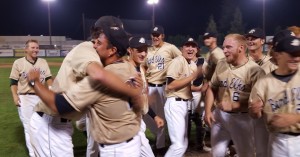 Kelowna jumped out to an early 1-0 lead, starting the game with 3 straight hits in the first inning to load up the bases for 3B Vinny Esposito (Fr, Cal State Sacramento), who hit into a fielder's choice to score 1B Ben Gamba.
In the top of the 3rd, Gamba hit a double to score CF Grant Meylan (Fr, Santa Clara U) to extend the Falcons lead to 2-0.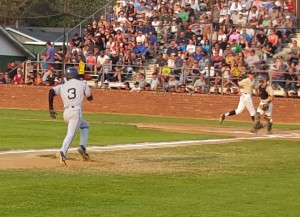 However, the Elks answered in the bottom of the 3rd with 4 runs of their own to take the lead.
3B JD Larimer (Jr, North Dakota State), 2B Dalton Hurd (Fr, Seattle U) and OF Derek Chapman (Fr. Washington State U) all singled to load up the bases for OF Billy King (Soph, OSU), who cranked out a grand slam home run to put the Elks up 4-2

But the Elks were not done racking up runs, in the bottom of the 4th, the Elks put up another 6 runs.
DH West Tunnel (Jr, Baylor) began the inning with a single, C Cooper Hummel (Soph, U of Portland) walked, and 1B Tommy Lane (Soph, Marshall) reached on an error to load up the bases for Hurd, whose single put the Elks up 5-2.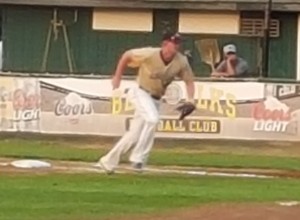 Then Chapman walked to force home Hummel, making it 6-2.

But the Elks were not done scoring yet, King followed up his grand slam in the 3rd with a 2 RBI double in the 4th, bringing his game-leading RBI total to 6, driving home Lane and Hurd to bring the Elks lead to 8-2.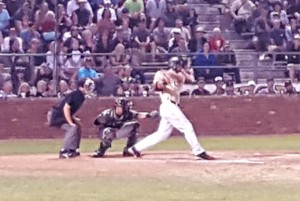 The Elks rounded out the scoring in the 4th on a OF Patrick Flynn (Fr. U of Utah) 2 RBI double, driving in Chapman and King extending their lead to 10-2.

Kelowna was able to muster 2 more runs in the game including a C Brandon Oliver (Jr, W Oregon U) RBI single, driving home OF Matt Hearn (Fr, Mission College) in the 5th and in the 7th when Esposito hit into a fielder's choice driving home Gamba.
SP Riley Newman (Soph, Linfield College) picked up the win for the Elks, working 4 innings, giving up 3 runs on 10 hits and 1 strike out.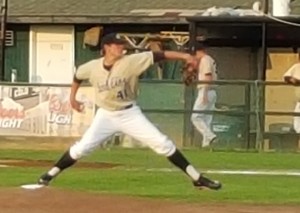 The Elks when 4-0 in the post season, sweeping both Kelowna (10-4 and 15-9) and Corvallis (5-2, 12-1).
The Elks hitting helped them win their first WCL championship, with Tunnell (.356), Tyler Davis (.352), and  King (.336), placing 4, 5 and 6 in the league leader in batting average.
Davis also lead the league in RBIs with 50, and Tunnel's 39 RBIs put him in 4th place.