The Bend Elks beat the Corvallis Knights 8-5 on Sunday (6/8) at Vince Genna Stadium in Bend to take the season-opening series against the defending W-C-L Champions.
This was the rubber game of their three game series to open the season, as the Elks roll on to an 8-5 win Sunday night.
Bend (2-1) won the season opener Friday night, 5-2 and dropped game-2 Saturday, 7-2.
SS Nick Osuna (Cal-St. Northridge) said that it was an all-around effort by the team, "all around good team D, quality at bats and it was just a good day all around… It was big to get the series win today".
On Sunday, Zack Carter (1-0) of St. Martin's college pitched the first 4 innings for the win, giving up 2 hits and 2 runs.
Former Summit HS All-State Pitcher (2012) Kevin Hamann gave up 3 runs in 4 innings in middle relief, and Louis Cohen got the save (1) striking out 2 in the ninth inning.
After a quiet first inning, the Elks got on the board when CF Zack Close was walked, then advanced on an error, and scored on a passed ball to give them a 1-0 lead.
The scoring continued in the 3rd when LF Joe Carrol (Mt. View HS/Linfield) smacked a stand up double to right field, followed by an RBI double by 1B Jonathan Brooks.
Brooks crossed the plate on a sacrifice bunt by Antonio Roque, to give the Elks an early 3-0 lead after three innings.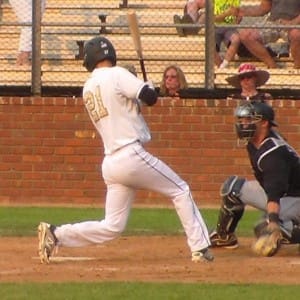 The Knights (1-2) responded with 2 runs in the 4th, but the Elks doubled that in the bottom of the 4th with 4 runs of their own.
The inning was highlighted by a Curtis Wildung (PLU) home run which drove in Austin Kelly.

The Elks added another run in the 5th on former Summit star Landon Frost's RBI single, giving the Elks a 8-2 lead after the 5th inning.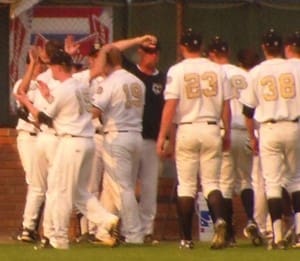 Joe Duffin drilled a 3 run home run for the Knights in the 6th to close the gap to 8-5, but it was too little too late. The Elks secured a 8-5 win over Corvallis.

Bend hits the road for a 4-game series in Medford against the Rogues.
The Elks return home for  a 3 game series Friday, June 13 against the Victoria Harbour Cats. The game on Friday 13th will be costume night. For ticket and game information visit www.bendelks.com