After finishing last year at 5-6, the Summit Storm are looking to take their game to the next level in 2014, and it all starts with the off season practice.
Going into his 7th year overall at Summit, 3rd year as Head Coach, Joe Padilla (7-17) says he feels good about the Storm's chances of putting together a winning season this year. "I have seen players working harder this off season than I have in the 7 years I have been here."
The team split up into position groups to run drills, including 7 on 7's, tackling and blocking drills, as well as route drill for the receivers.
Coach Padilla says he is paying special attention to the competition at the offensive skill positions of quarterback, receiver, and running back.
The storm boast an impressive assistant coaching staff, including former NFL players, Offensive Coordinator Drew Bledsoe, and Receivers Coach, Kevin Boss.
Summit has also brought over Defensive Coordinator Neil Elshire from Mountain View. This marks Elshire's third stint since 2001 at Summit.
Padilla says Elshire will make a big difference on the defensive side of the ball, "He brings an intense nature, he is very thorough in how he prepares… some one who brings us to another level."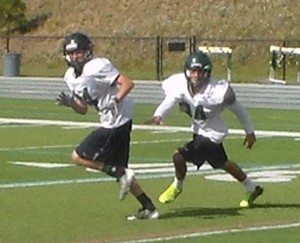 Even though there are some celebrities on the coaching staff, Padilla says they shy from the spotlight, "They just want to coach football, they just want to teach kids."
At the end of practice, the team loaded up for a 7 hour trip to the Gold Beach football camp in Southwest Oregon on the coast, where they will join up with 15 other teams and work on honing their skills for the upcoming season.

Summit opens the season hosting Pendleton (8-3) on September 5th.
And, the Storm have tough home dates with state Semifinalist Ashland, and IMC Champion Mt. View. Plus, Summit hosts the 2013 4A Champion Ridgeview Ravens.
The Storm ended 2013 losing at eventual 5A State Champion West Albany 48-20 in the Storm's first ever 'Playoff' game in school history.
However, Summit defeated its arch inter-city rival Bend, 17-14, for the first time in 8 years in a highly controversial finish that still hasn't sat well with the Lava Bears.
2014 SUMMIT STORM SCHEDULE
Sept. 5  vs. Pendleton
Sept. 12 at Franklin
Sept. 19 vs. Ashland
Sept. 26 at The Dalles
Oct. 3 vs. Mt. View
Oct. 10 at Redmond
Oct. 17 vs. Ridgeview
Oct. 24 at Bend
Oct. 31 vs. North Salem