The Hood River Eagles, the #1 ranked 5A Prep Softball team in Oregon, won both sides of a double-header against the Bend Lava Bears Softball Team Saturday in Bend.
With the two losses, Bend drops from 6th to 8th in the rankings with a 6-3 record.
The Eagles won the first game 4-0, and the second 7-0.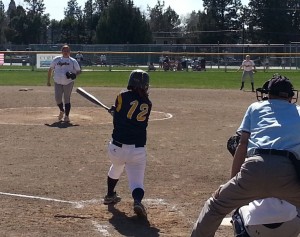 Pitcher Kayla Byers had a dominant performance on Saturday, April 11th, shutting out the Bend Lava Bears in both games, allowing only 2 hits and striking out 11 in the first game, and  allowing 3 hits and throwing 10 strikeouts in the second.
She also helped herself out from the batters box driving in one of the four runs in the first game, and going 2 for 4 in the second game.
Breanna Weekly homered for the Hood River Eagles in the first game and added two hits in the second as well as 3 RBIs.
Lisa Sylvester and Awbrie Elle Kinkade were the only Lava Bears to get hits in the first game.
In the second, Sylvester, Kendall Kramer and Alexis Hill-Gruenber also had singles, but all were left on base in the shut out loss.
The Lava Bears travel to the west side to play  Summit (2-6) for a double header Wednesday, April 16th, starting at 3:00 pm.