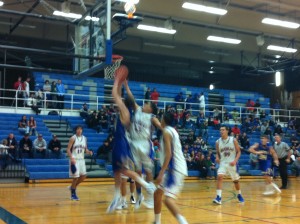 (#35 Jhaylen Yeahquo checks #32 David Larson in 3rd quarter action)
As the 2011-12 Prep basketball preseason winds down before start of League play after the New Year, the Madras White Buffalo boys made a statement last night as they held off the Bend Lava Bears, 64-61.
Madras (4-3) led by 17 points (54-37) heading in to the 4th quarter, but the class 5A Lava Bears, who lost 4 of 5 starters from last year's Final-4 team, battled back only to fall short evening the Bears record to 4-4.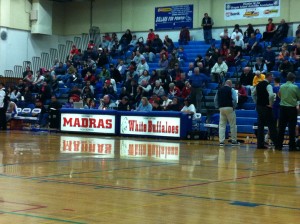 Bend, ranked 11th in the OSAA power rankings, was playing its 2nd of  5 straight road games. 
The Bears nipped Klamath Union Saturday night, 63-62, and next will travel to North Eugene, and Churchill in Eugene next Thursday and Friday night.
The Bears finally touch their own hardwood hosting Summit to begin IMC League Play on Friday, January 6th.
Bend finished 2011 with a 22-4 record and lost to Wilsonville in the 3rd place game, 52-48, under 22nd year Head Coach Don Hayes.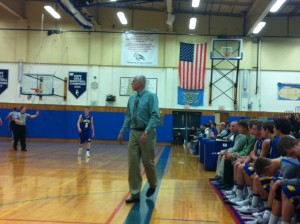 Meantime, this night belonged to Madras and Head Coach Allen Hair as the Buffs pressured Bend, outhustled them in most phases of the game, and executed on the offensive end.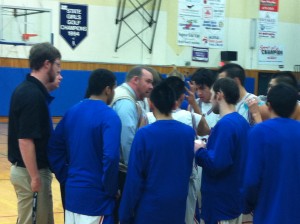 Madras was led in scoring by Junior Jhaylen Yeahquo who netted 15. 
J.C. Grim led all scorers with 19, and Larson chipped in 15.  Hayden Crook finished with 10 for the Bears. 
Senior Bobby Ahern led the Buffs on the defensive end forcing turnovers, and converting at the other end to bury Bend early in the second half.
(click below to see video)
And, Steel (gotta love that name for hoops..) Haugen drained three 3-point field goals including this one below off a Bend turnover.
(click below to see video)
The 17th ranked (Class 4A) White Buffalo improve to 4-3 with the win coming off last year's 11-14 campaign, and getting ousted in 1st round of playoffs losing to the State Runnerup, Cottage Grove Lions, 57-35.
Madras finished in a 3-way tie for the Tri-Valley Conference Title.
The Buffs travel to Phoenix, Arizona for the 'Cactus Jam' Tournament December 27-30 before returning to the central Oregon on January 4th for a date at Summit.
Madras begins league play on January 17th hosting Gladstone.
(click below to see video)