The Redmond Panthers look to be a team coming into it's own this year.
With 29 seniors on the team, they are one of the more mature teams in the IMC, featuring players like RB Derek Brown and DE Colton Slavey taking leadership rolls.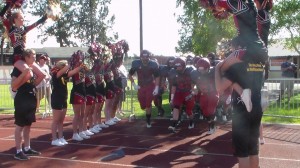 QB and team captain Bunker Parrish has started the last 2 years for the Panthers, but was hurt while wresting over the off season, however he is on the road to recovery and should be back on the field soon.
In the mean time, RB Hunter Smith has stepped in the QB role for the team.
The Panthers boast one of the better back fields in the IMC, with Smith, who team mates call "Mr. Touchdown", Smith, and their power back Cooger Smith.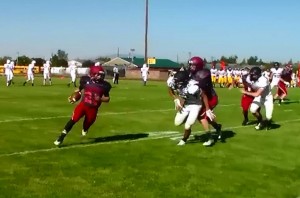 On defense, the Panthers look to Sr brothers Gabe (LB) and Jacob Brauchler (DT) to lead their defense.
The Panthers, opened the year against Franklin last year, blowing them out 62-28. They continued to roll picking up victories at Eagle Point, 56-7, and against The Dalles 61-0. They winning continued as they went to Hood River Valley and beat the Eagles 49-27.
However, a heart breaking loss on a last minute drive by the Bend Lava Bears, 21-20, started a 3 game skid for the Panthers, also losing to Summit 4202 and Mt View 34-30.
The Panthers righted the shop and were able to get back to their winning ways for the last 2 games of the season, beating North Eugene 70-24.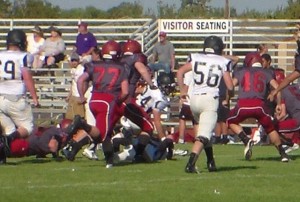 Then Redmond ended the year defeating their cross town rivals, The Ridgeview Ravens 39-16.
The Panthers open this year on the road against Franklin again this year.
Mazama visits Redmond on Sept 11th for their first home game.
IMC play starts on Oct 2nd vs. the Bend Lava Bears, where the Redmond Panthers hope to even the score after the heart breaking loss last year.
The last time the Redmond Panthers made the post season was in 2012, when they made it to the semi-finals, where they lost to the Marist Spartans 40-8.