The Summit Storm are a program on the rise.
In 2012, the Storm only garnered 2 wins, in 2013, they finished just under .500 with 5 wins and 6 losses.
But last year, the Storm took a huge step forward.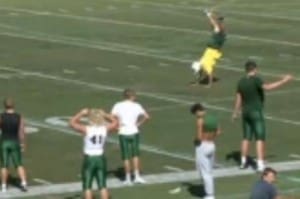 After winning 7 and loosing 3 games, the Storm finished the regular season at #10 in the OSAA end of regular season poll, but they  were eliminated in Round # 1 of the play-offs by the Marist Catholic Spartans 41-29.
The Storm open the season on the road against Pendleton, who ended last year ranked #16 in the OSAA with a 5-5 record.
The Storm return to Bend for their first home game on Sept 11th vs. Franklin to start a 3 game home stretch, including State semifinalist Ashland on Sept 18th, and their chance at revenge on Marist on Sept 25th.
The Storm, with Head Coach Joe Padilla, will rely on Jr. QB John Bledsoe, who took over starting duties from returning senior Branson Reynolds last year.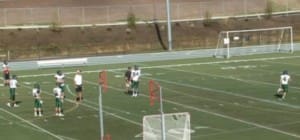 Also, Summit is welcoming back RB Jason Garcia, who not only has recovered from the injury which kept him out most of last year, but has also put on another 20 pounds in the weight room. Garcia was always a quick runner with good vision, but now he is looking to add a power element to his game.
On defense, the Storm are lead by Sr. MLB Jacob Thompson and Sr. SS Stu Bledsoe.
Other notable Storm players to keep an eye on are Sean Kent, a 5'7″ speedster who will line up in the back feild and in the slot,  6'4″ Sr. WR Nick Mason, and Sr. 6'5″, 230 pound TE Cam McCormick.
McCormick received offers from Arizona, Arizona State, Boise State, Colorado, Montana State, Oregon, Oregon State, Washington and Washington State, but decided to accept a scholarship to be a Duck.
Coach Padilla says that while McCormick is best known as a TE, he might excel on the defensive side of the ball in college, where he could be used as a DE or and OLB.
Bledsoe has a plethora of targets to choose from, so look for a high scoring offense from the Storm.
Summit is only losing a couple notable players from last year, including MLB/RB Thomas Carter, and CB/WR Patrick Leiphardt.