Despite a strong showing in the first quarter, the Ridgeview Ravens fell to the South Albany Rebels 35-20.
Ridgeview capitalized on a combination of power running and good luck to jump out to an early 12 point lead.
On their first possession, Ridgeview went 3 and out and were forced to punt the ball away. That's where good luck came into play, as South Albany's Devyn Exceen (Sr. 5-10, 170) muffed the punt and WR/DB Tommy Wright (6-0, 165) recovered the ball for the Ravens. on the Rebels' 22 yard line.

That set up the game's first touchdown, a powerful 10 yard run by FB Brett Yeakey (Jr 6-0, 220). It would not be the last time we heard from him. The Rebels were then held to a 3 and out.
Ridgeview hammered out a 13 play drive which included a 31 yard run by fly back Seth Whitley (Sr. 5-7 180), who would finish with over 100 yards rushing, and was capped off by Yeakey's second score, a 1 yard touchdown run. Following a failed 2 point try, the score was 12-0, with Ridgeview seemingly in control.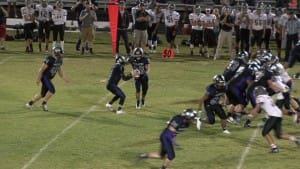 After forcing another South Albany 3 and out, Ridgeview took a huge risk, opting to go for a 4th down conversion deep in their own territory, despite a 2 score lead.
In addition to the attempt being unsuccessful, RB Logan Green (Jr. 5-8 160) was hit with an unsportsmanlike conduct penalty, giving the Rebels the ball and the momentum on the 12 yard line. South Albany capitalized with a 1 yard TD by Cheyse Baum (Jr. 6-1 175).
Ridgeview moved the ball on well on the next drive, with Wright breaking another big run, this time for 21 yards.
A costly interception by Landon Matta (Sr. 5-6 160) ended the drive, and Tanner Hemzacek (Jr. 6-0 190) caught a 15 yard TD pass from QB Cade Perrizo (Jr. 5-11 160), and this time converting a 2 point try, giving the Rebels a 15-12 lead.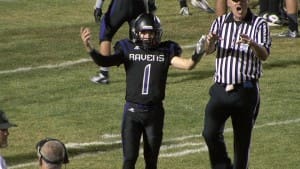 On the final play of the first half, QB Brett Blundell (Sr. 5-8 160) threw a second interception, which was returned for a touchdown with no time remaining. 22-12.

The second half began with a 16 play scoring drive for South Albany that included 2 4th down conversions. Ending in a 10 yard TD pass to Ryan Barnes, the extra point made it 29-12.
After another Rebel touchdown, the Ravens were able to mount 1 last scoring drive, as Yeakey punched in his third touchdown run in the final minute of the game, making the score 35-20, with the successful 2 point try.
When the dust finally settled, the Ravens (1-1) suffered a tough loss in a game that looked to be theirs in the early going. Ridgeview travels next week to face the Hood River Valley Eagles, before hosting the #3 Ashland Grizzlies September 25th.
South Albany, 1-1, will host Central next week.