The Ridgeview Ravens have started the 2015 season on the right foot, scoring a home win against Baker last Friday (9/4/15) 21-6.
This Friday (9/11/15), PlayActionSportsMedia.com will provide live coverage as the Ravens look to go 2-0 as they host the South Albany Rebels.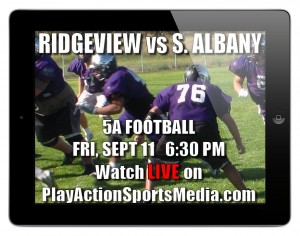 The Rebels, are coming off a 40-20 home loss to the Lincoln Cardinals to open the season last friday and looking for their first win of the year.
The Ravens feature a new look offense, with the only quarterback to ever start for Ridgeview, Jacob Johnson, graduating last year, senior QB Brett Blundell (5-8 160) says he is looking forward to filling Johnson's shoes.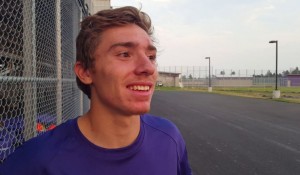 "I feel like I can step up and be the leader" said Blundell
Blundell has quick feet with a sharp short passing game, and will be protected by one of the largest line in Oregon high school football today, including junior G Gregory Conner (6-3, 430), senior T Chris Steffey (6-5, 285), and senior C Cruz Christiansen (5-11 315), and back up OL Gabriel Garcia (6-0 350) the starting line weighs out at about 1,400 pounds.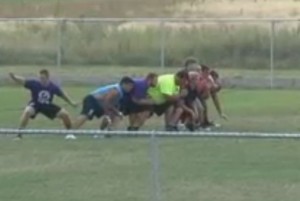 Blundell says he feels very comfortable behind that line, "our linemen, best linemen in Oregon, for sure".
Junior running back Brett Yeakey brings back his hard nosed running style and will be looking to see more carries and playing time.
Blundell anticipates a big year from senior WR Shayne Sensenbaugh (5-11 185), along with senior Seth Whitely (5-7 180) at the Fly-Back position, either of whom could be the fastest guys on the team, depending on who you talk to.
The defense is anchored by senior outside linebacker Jack Hamilton (5-9 210) and will be tough to run inside on with Conner using his 400+ pounds to stuff up the middle at nose tackle.
The Ravens won the 4A state title in 2013, defeating the Cottage Grove Lions 50-31.
But last year, after losing some key players, and moving up to the 5A, they finished  3-6, going 1-4 in the IMC.
Last year, Ridgeview opened the year with a 35-18 win at Baker, but then lost to South Albany on the road 27-7.
Head Coach Andy Codding says they are looking forward to a great year of football at Ridgeview "I know that we are going to be flying around, the kids are going to have fun."