It was Homecoming Night, and it was Senior Night, and it was all 4th ranked Mt. View early and often as the Cougars rolled to a 49-12 win over Summit at Jack Harris Stadium in Bend.
With the win, Mt. View improves to 6-1 while Summit falls to 4-3.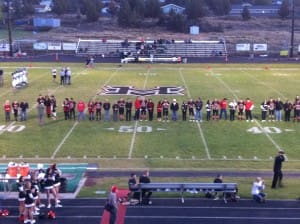 The Cougars scored 5 first quarter touchdowns, then led 42-zip at halftime led by 4 Jacob Hollister TD passes including  three to his brother Cody who scored on receptions of 25, 24, and 59-yards.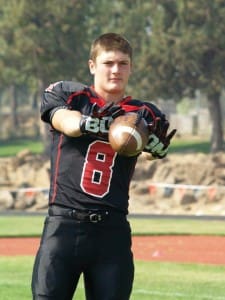 Sr. WR #8 Cody Hollister 32 catches 545-yards (77.8 ypg)  on the year with 7 TD's
Jacob also picked off a Max Lindsay Summit pass for a 30-yard score in the first quarter.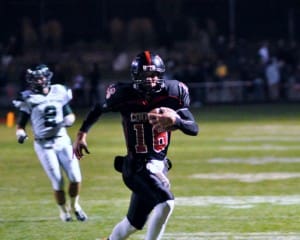 The Sr. finished the evening 4 of 4 passing for 228-yards bringing his season total to 14-touchdowns, with only 1-interception.
"I was very pleased with our execution on both our offense and defense," said 4th year Head Coach Steve Turner.  "We had some big plays on offense and we really got after it on defense."
Turner improved his career record at Mt. View to 33-7 overall, and 17-3 in IMC League Play. 
The Cougar defense, which ranks 6th in the state in fewest points allowed, held the Storm scoreless until 7:18 to play in the 3rd quarter when sophomore tailback J.T. Evans reversed field, and outran everybody for a 87-yard TD run to make it 42-6.
Evans entered the game 7th in rushing yards in the 5A division, and has 13 TD runs in 2011.  Last week, Bend blanked Summit 38-0, and the Lava Bears held Evans to just 3-yards on 7-carries, but the sophomore bounced back hard against the Cougs.
Meantime, Mt. View raced to 250-yards rushing led by Sr. Joel Skotte who had only 3 carries for 99-yards. 
Sr. Dimitri Dillard racked up 58-yards on 6 carries, and a nifty 46-yard TD run (pictured above-courtesy Mike Roberts) behind the lead blocking of fullback Trevor Roberts.
The Cougars have won 3-straight in the series against Summit since the Storm stunned the then #2 rated Cougs, 7-0 in 2008.
Summit returns home Friday to Drew Bledsoe field to host Crook County (3-4)for Homecoming Night.  The Cowboys fell to Roosevelt, 45-35. Although Crook County had some big plays in a 21-yard interception return by Alex Greaves, and a 93-yard kickoff return by Hunter Bourland.
The Cowboys could still qualify for one of 5 at-large playoff  berths in the 4A division.
Mt. View gears up for the 'Black-n-Blue' Civil War game at Bend HS this Friday night. 
The Cougs have won 4 of the last five meetings with the Lava Bears (6-1)who saw their unbeaten streak come to an end with a 35-26 loss at Lincoln of Portland.
Bend led 19-14 at halftime with Duke DeGaetano pounding out 207-yards on the night on 40-carries in a losing effort. 
Jr. QB Jonah Koski threw for 2 touchdowns bringing his season total to 15 with only 4 interceptions.  Koski has completed 54% of his passes for 1, 359-yards which ranks 2nd in class 5A play.
Elsewhere, Culver (2-4) fell to Regis in class 2A Tri-River play, 32-16. The Bulldogs play at Central Linn next week.
North Lake (1-5) won its first game of the season beating Prospect, 30-22.
And, Gilchrist (2-4) was blanked by Powers, 56-0.