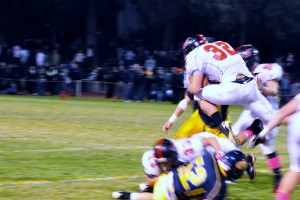 The night was full of excitement, expectation, and plenty of energy setting the table for the 32nd Annual 'Civil War' game between #3 Mt. View at #5 Bend.
55-degrees, mostly sunny, slight breeze at kickoff  on 'Homecoming-Senior'  Night at sold out Punk Hunnell Stadium in Bend.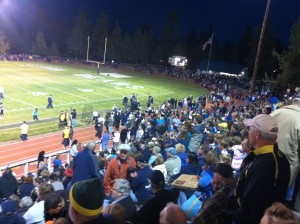 And, this game, as expected, had some big plays, key plays, and a few untimely turnovers, and they came early rather then later, at least for Mt. View's sake.
The Cougars capatilized on 2 of  Bend's  5 turnovers (blocked FG, and QB fumble) in the opening frame to take a firm 14-0 lead, and then added a decisive blow with a TD pass  (Hollister to Hollister) in the 2nd quarter to hold a 21-zip stranglehold on the Bears at halftime.
 The Cougars proceeded to roll on to a 35-13 win over their arch-rival to win the 'I-M-C' (Intermountain) Title.
The knockout blow was Mt. View's opening second-half drive when the Cougs hammered out an 8-play, 82- yard drive once again calling on Joel Skotte to do the 'Cougars Share' of the work.
The win evens up the popular annual grudge match at 16-wins for each school, as Mt. View head Coach Steve Turner's program has won 3 of the last 4 contests.
Senior tailback Joel Skotte (6-3/230) literally ran over, through, and by the Lava Bears for 3 rushing TD's as the Oregon State bound product packed the pigskin 22-times for 226-yards.
Mt. View pounded out 414 yards in total offense behind the lead blocking of fullback Trevor Roberts, and a solid line play of Dylan Johnson, Brian Chapman, Nick Thompson, Matt Miller, and Texas Bach.
These guys could probably be hired by the Secret Service to protect the President equally as well as they sealed every hole, and pancaked defenders on their butts, literally most of the night.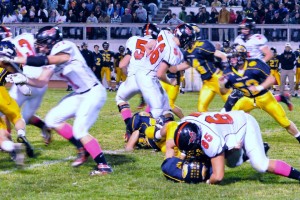 (photos courtesy Mike Roberts)
It all started when the Bears commanded the ball down field penetrating to the red zone on Bend's second possession of the game, when finally the Cougars 'D' said that's as far as you go.
So, the Lava Bears called on Kicker, Hayden Crook, who earlier in the year nailed 2 Field Goals, to try and draw first blood with a 37-yard FG attempt from the left hash, angle right for right-footed kicker from a J.C. Grim hold.
Crook, incidentally, is being mentored by former Bend graduate, and current NFL Vikings kicker, Ryan Longwell, and Longwell's father.
 The "big play" didn't take long to happen either as Mt. View's Dylan Johnson, who is being mentored by Neil Elshire (Oregon grad;see picture below), the former great DE for the Vikings, blocked Crook's kick.
The next play Skotte ran 73-yards to the house to give Mt. View the early 6-zip lead as Bryce Tipton, who has been money all year, pooched the PAT kick off to the left.
The Cougars ended the nght witth 414 yards in Total offense to Bends 295.  And, once again, the Cougars gave up alot of penalty yards yielding 106 on 8-fouls.
 Skotte also added TD runs of one and 6-yards.
And, he intercepted a pass with 2:47 to go in first quarter on a tipped ball intended to Kyle Lammers when Jacob Hollister rocked Lammers just as he was about to haul the Jonah Koski pass in.
The next series for the Lava Bears saw Koski fumble a snap and Josh Smith recover. The Cougars struck quickly with Jacob Hollister finding Jr. John Carrol at the goal line for a 6-yard pass.
Hollister would search out his brother, Cody, 4-minutes later for a 27-yard score for Cody's 8th TD catch of 2011. Cody now moves in to 3rd place on the All-Time MV career reception list with 108 needing 22 more catches to tie #1 Pat Cashman (2006-08).
Jacob has 20-TD passes to finish the regular season with only 1-interception, and is now the Cougars career leader in Passing yardage with 3, 852 literally 'passing' the likes of Chris Plants, Tim Corrigan, and Gabe Nehl.
Meantime, Koski would have two more miscues (INT's) in the 2nd half with a pick on Bend's first, and last drive off the game while threatening to score.
Mt. View improves to 7-1 and Bend is now 6-2 as both teams have next week off  before the OSAA 'Play-In' round on November 4th.
A real highlight of the event happened just before kickoff, and right before our very eyes.
A chartered helicopter form 'Leading Edge Aviation' was introduced by the stadium PA Announcer, as it's very crafty pilot carrying Head Coach Craig Walker's wife and daughter landed smack square in the middle, and heart of Punk Hunnell Stadium.
SEE VIDEO FRIDAY NIGHT FLIGHTS
The Walker Women were presenting the game ball for the 32nd Rivalry in the series between Bend vs. Mt.View. 
And, in honor of their husband, and father, respectively, they delivered Coach Walker's last Home Game Ball  to him as he's retiring after this season calling it good after 24-seasons.
His career Civil War record will finish in his favor, though, as he claimed 14 of 24 in the series.
But, on this night, the copter should have beamed Skotte up when leaving.
Credit to Alan Yankus and Scott Baker for their game statistics and spotting work.