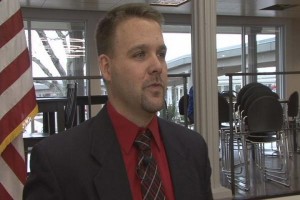 One of the winningest High School Football programs in Oregon history, North Medford High School, has hit rock bottom amid its newest Head Coach, Nate Becksted, suddenly announcing his resignation Wednesday morning.
Becksted, 36, has stepped down effective immediately, after being named Head Coach of the mighty Black Tornado program nearly 8-months ago to the date.
Becksted came to Medford after he asserts he served as Head Coach at Heritage High School in Vancouver, Washington for 6-years.  He was there for 6 years, but was only the Head Coach his last 5 seasons.
Suddenly, as a vested teacher, he resigned at Heritage.  Why?
Suddenly in mid-season he resigns at North Medford. Why?
Becksted has made public assertions that prior to Heritage, he served as Head Coach at 2 other programs, Willits and St. Bernards, and that he was Offensive Coordinator at Eureka HS in northern California where he grew up.
Or, did he?
Now comes the 'red challenge flag!'
"After further review,"…..of his resume and background, it has been discovered that Becksted may have sold North Medford a bill of goods he couldn't deliver as promised.
When hired in February by Athletic Director Tim Sam, Becksted stated, "we need to get the kids to buy in to the program, and my thing is to create the right atmosphere."  
"I think I've sold them on that right away, and we want to continue a program that has great integrity." 
The Tornado have struggled to a 1-6 start under a Coach that claimed he had turned around 3 programs, and had earned 3 'Coach of the Year' honors in his career.
He also claims he compiled a 69-16 career win-loss record in 8-years at two schools in Eureka winning 6-League championships, and 2 'Coach of The Year' awards.
Or, was his career record 51-39 as he accounted to the Medford Mail Tribune upon his hiring?
The simple fact is, that's not entirely true.
Nor, did he ever serve as Offensive Coordinator at Eureka.
A source I contacted, who wished to remain anonymous stated, "Nate never was 'OC' at Eureka when Rey Maualuga played with current NFL wide receiver Maurice Purify."
"In fact, he was only a JV-Freshman coach on staff when the Loggers went 13-0 in 2003." 
My source continued to add, "and, he was only Head Coach at Willits for one season in 2004."   
However, Becksted did lead Willits to an impressive 12-1 record that year.
The situation at North Medford with Becksted resembles alot of what was claimed by George O'Leary who once was hired to lead Notre Dame's college program.
Remember?
It was O'Leary who a few days after he was hired, inaccuracies were discovered on his resume. O'Leary claimed he had earned a master's degree from "NYU-Stony Brook University," a non-existent institution. They're actually two separate institutions.
He also claimed that he had earned three letters in football at the University of New Hampshire, when the school claimed he had not even played in one game.
None of the above proved to be true in O'Leary's case.
One might speculate Becksted's resignation may have been forced after school officials did conduct a follow-up review of his resume after rumors, and tips had surfaced that he may not be the Coach he claimed to be on paper.
Upon his resignation, Becksted expressed the following in a media release by North Medford, "the work required to rebuild the North Medford program has taken a more significant toll on him and his family than he had anticipated."
Longtime veteran coach, and current assistant Tom Powell will serve as the Interim Head Coach for the final 2 regular season games with the Tornado set to face Roseburg and Thurston before entering the lackluster 'Play-In' round on November 4th.
No doubt this has proved to be an embarassing hire by North Medford Athletic Director Tim Sam regardless of what reason Becksted, or North officials claim in tendering, and accepting his resignation.
And, no doubt Becksted "sold" North Medford and got them to "buy" in to his false claims of record, and achievements.
The school will conduct a search for a permanent head coach during the offseason.
Perhaps this time, the Tornado and its Athletic Director will exercise much better due diligence in its hiring.  The Medford community with its rich football tradition deserves better.