(Mt. View Sr. QB  #16 Jacob Hollister) 
The 3rd ranked Mt. View Cougars did on paper what they did on the field this fall, and that is dominate the Intermountain Conference.  The Cougars ended the regular season with the IMC Championship, and a 7-1 record with their only loss thus far coming to #2 Sherwood in week-3.
Mt. View (8-1) entertains Jefferson (6-4)(Portland) in the OSAA 1st Round Class 5A playoffs, while Bend (7-2) faces Liberty (6-4).
Mt. View placed 6 players on the IMC All-League first team Offense, and 5 players picked on the Defensive unit. 
Mt. View Seniors Joel Skotte, and Dimitri Dillard share the Defensive 'Players of the Year' honor, while Jacob Hollister was unanimously named the Offensive 'Player of the Year.
Skotte, who signed a Letter of Intent scholarship offer from Oregon State, recently underwent minor knee surgery, but will be in action tonight as the OSAA Playoffs officially begin.
Bend secured 3 All-League spots on Offense and Defense, while Redmond placed 3 players on the All-League Defensive squad, and 2 on Offense.
Summit's only first team honor went to Sr. DB T.J. Peay.  However, the Storm had 5 players honored to the 2nd team Offense including So. RB J.T. Evans who rushed for 1,188 yards on 125 carries for 16 touchdowns
(Summit So. RB  #4 J.T. Evans)
Sr. RB/DB Dimitri Dillard, and TE/OLB Nick Gentry both of Mt. View HS were the only two players who earned 1st Team honors on both sides of the line of scrimmage.
A Total of 20 Mt. View players received recognition.
Highlighting the IMC 'Offensive Team' is Sr. WR J.C. Grim of Bend who has the 3rd most receiving yards with 848 on 49 catches (17.3avg.) with 11 touchdowns, and Sr. WR Cody Hollister who ranks 5th in receiving.  Hollister has 667 yards on 39 catches with 10 TD's.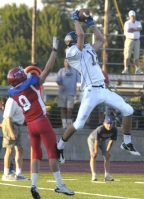 (Bend Sr. WR  #18 J.C. Grim)
Jacob Hollister, Sr., became the all-time leading passer in Mt. View school history this season with 4,014 career yards.  Hollister ranks 7th in the State entering the OSAA Playoffs with 1,321 yards passing.  He has completed 64-percent of his passes (63-100) with 24 touchdowns, and just 1 interception.
2011  I-M-C  Football 'ALL-LEAGUE'  1st  Team
1ST  TEAM  OFFENSE
'Offensive Player of the Year'  
QB, Jacob Hollister, Sr., Mt. View
(Ranks 7th in State 5A Passing; 70-109 1,321yds. 64%  24-TD  1-Int)
RB  Dimitri Dillard, Sr., Mt. View
RB Duke DeGaetano, Jr., Bend
WR Cody Hollister, Sr., Mt. View
WR J.C. Grim, Sr., Bend
TE Nick Gentry, Sr., Mt. View
C Casey Gates, Jr., Redmond
G Matt Miller, Sr., Mt. View
G Jacob Breitling, Jr., Redmond
T Chad 'Texas' Bach, Jr., Mt. View
T Scott Steinman, Sr., Bend
1st  TEAM DEFENSE
'Defensive Players of the Year'  
LB, Joel Skotte, Sr., Mt. View 
DB, Dimitri Dillard, Sr., Mt. View
LB  Zach Johnson, Sr., Bend
LB  J.D. Abbas, Jr., Redmond
DL  Dylan Johnson, Sr., Mt. View
DL  Kenny Dailey, Sr., Bend
DL  Cody DeCamp, Sr., Redmond
DE/OLB  Nick Gentry, Sr., Mt. View
DE/OLB  John Carroll, Jr., Mt. View
DB  J.C. Grim, Sr., Bend
DB  T.J. Peay, Sr., Summit
DB Keanu Tavita, Sr., Redmond
Special Teams
Punter-  Cole Thomas, Sr., Summit
Kicker-  Hayden Crook, Sr., Bend
Coach of the Year
Steve Turner (4th yr.) Mt. View
(36-7 career record at MV)